How to Strength Train During Outdoor Runs
A Few Things Runners Can Do Outside to Get Even Stronger
Hitting the open road has many benefits over running on a treadmill — fresh air and sunshine, gorgeous scenery to prevent boredom, and you can run with your four-legged fitness buddy. You also have more freedom of movement to incorporate muscle-toning moves into your runs, and here's how.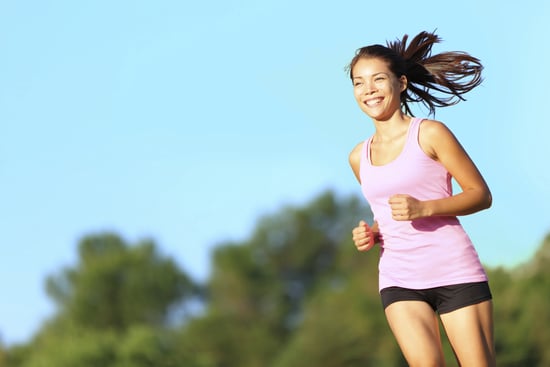 Run, baby, run: While running in general will tone your legs and booty, adding sprinting intervals is even more effective. Incorporate 30- to 60-second bursts throughout your workout and you're sure to feel your lower body working. Since you're outside, you can use landmarks to motivate you such as sprint to the stop sign or until you see five red cars, or if you're on a track, sprint the straights.
Walk this way: Sprints aren't the only type of interval you can include. When you need to catch your breath after a sprint, throw in a few sets of walking lunges to target your glutes, quads, and hamstrings.
Head for the hills: Find a steep hill in your neighborhood or in the woods and do hill repeats. Run up the hill, then back down to target all the muscles in your lower body. If you need some motivation, try this hill repeat workout to build muscle and endurance.
Run differently: Being outside gives you the liberty to vary your steps instead of just putting one foot in front of the other like you do on the treadmill. To challenge your muscles in different ways and use ones you normally wouldn't while running, get creative with how you step. Run diagonally or sideways, take giant steps or baby steps, run in a zigzag or with high knees, skip, or even run backward. Doing it on open trails not only gives you the space to vary your steps, but also helps you avoid any weird looks at the gym.
Feel the resistance: Running is hard enough, but if you make it even more difficult by adding resistance, then you'll effectively tone your whole body, not just your legs. Safe ways to add resistance include running in deep water, wearing a weighted vest, pushing a stroller, or, if you're really serious, using a running parachute. Avoid running with ankle weights or while holding dumbbells, as it puts you at risk for straining your knees and shoulders.
End with a bang: If you're not into mixing it up during your actual run, then you can always add a little outdoor strength training at the end. After cooling down, find a playground and do this total-body playground circuit workout or try these boot-camp-style strength-training moves. Finish up with these six stretches using a tree.