How to Strengthen Your Core
Multitasking Move: Plank Opposite Limb Extensions
If the thought of baring your belly in a bikini sends shivers up your spine, try this full-body move sure to tone your center. This balancing exercise will work your muscles more effectively, giving you faster results with fewer reps (read: less time at the gym, more time at the beach). Similar to the core exercise opposite limb extensions with a band, this variation is more challenging since you're in the plank position rather than on your hands and knees.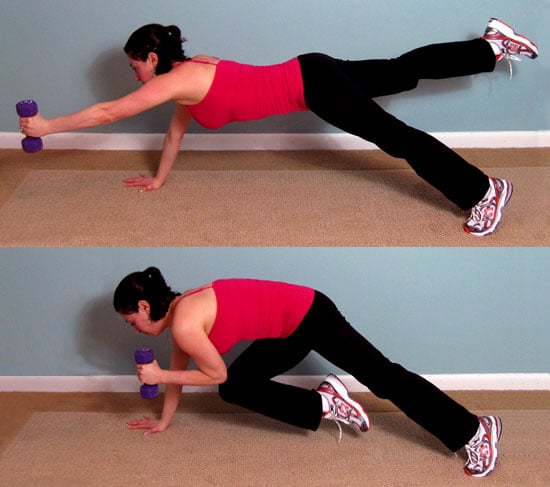 Grab a dumbbell (I use a 6-pounder) and keep reading.
Start in a plank position with straight arms and legs holding a dumbbell in your left hand.
Keeping your spine straight and your abs engaged, extend your left arm and right leg away from you. If it's hard to balance, reposition your right hand and left foot a few inches in order to find stable ground. This is the starting position.
Slowly draw your left elbow and right knee in to touch under your torso. Then extend them, coming back to the starting position.
This counts as one rep. Complete three sets of 15 reps on each side.