How to Stretch the Hamstrings
Stretch It: Straight Leg Hamstring Stretch
I've been exploring new trails in the woods near my house for hiking and running, and man, are my hamstrings sore from all those steep hills. If the backs of your legs could use a good stretch, try this one that will effectively target that area and challenge your core a bit as you balance during the stretch.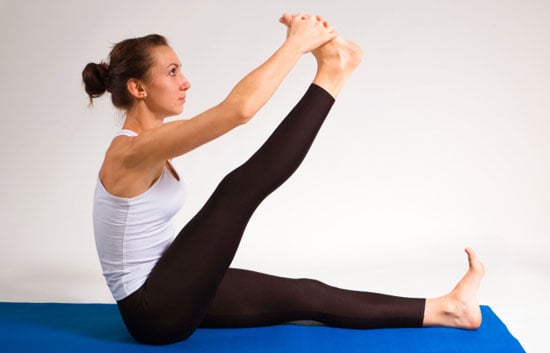 To learn how to do this stretch and to also see a more relaxing variation,
.
Sit on the floor, extending both legs straight out in front of you. Sit up tall, lengthening the crown of the head away from the hips. Relax the shoulders away from the ears.
Bend your right knee and draw it into your chest. Hold the sole of your right foot with both hands.
Keeping the spine straight, begin to straighten the right leg. If your hamstrings are tight, hold your leg lower behind the calf or back of the thigh. If your hamstrings are extremely tight, wrap a towel or strap around your leg and hold on to that. The goal is to keep the right leg straight, to target the back of your right leg.
Draw the right leg as close as you can toward your torso without rounding the spine. Hold for 30 seconds, and then gently release the leg back to the floor.
Repeat this stretch with the left leg.

You can also do a variation of this stretch by lying on your back.