How to Stretch the Quads 2010-06-08 13:30:19
Stretch It: Kneeling Quad Stretch
All this running, biking, and hiking I've been doing lately has me some majorly sore quads. If you're in the same boat, give this effective stretch a try. It's a variation of the kneeling quad stretch against a wall, but in this version you don't need a wall, so it's a perfect stretch for the great outdoors.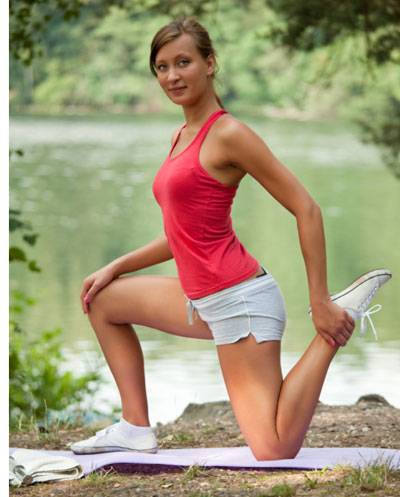 You'll need a towel for this stretch. To find out why
.
Start in a low lunge with your right knee bent in front of you at a 90-degree angle. Rest your left knee on the floor so it's under your left hip, and place a folded towel underneath it. A tee-shirt will do in a pinch. I have even taken off my running shoe and placed it under my knee when necessary.
Bend your left knee and reach your left hand back to hold the front of your ankle. Rest your right hand on your right hip or knee.
Using your left hand, pull your left heel as close as you can toward your left bum. Stay here for at least 30 seconds, stretching your left thigh. Squeeze your left glute to increase the stretch in the front of the left hip.
Gently release your left leg to the floor, and repeat this stretch with the left knee forward.