How to Stretch the Quads 2010-08-12 12:00:04
Stretch It: Double Quad Stretch
All you runners and bikers out there, I feel your pain. Our quads can become so tight and sore that we crave a good stretch for the front of our thighs. Kneeling Shin Stretch feels good, but if that's too easy for you, take it to the floor. This makes the stretch intense, but also relaxing.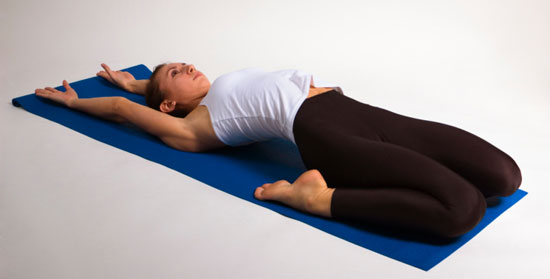 To hear how to do this stretch
.
Kneel on the floor with your knees together. Separate your feet so you can sit your tush on the ground in between them. Use your hands to roll your calves out of the way.
Take a look at your feet and curl the arches around the curve of your bum, so your toes are pointing behind you and slightly toward one another.
Shift your weight back and bring one hand behind you and then the other. Stay here or come to lie all the way down, flat on your back. Try to keep your knees as close together as possible to feel a deeper stretch in your quads. Bring your hands to rest on the soles of your feet or lift your arms overhead. This stretch can feel really intense on your knees, so if you feel any pain, sit back up. You don't want to risk injuring yourself.
Hold for 30 seconds and when you're ready to come out, lean into your elbows and press yourself back up to a seated position.