How to Stretch Your Hamstrings 2010-03-19 10:00:28
Stretch It: Relaxing Hamstring Stretch
Stretching my hamstrings after a run is a must, but since I bike and swim as well, my hamstrings could use all the stretching they can get. So I try to squeeze hamstring stretches in whenever I can. Here's one that you can do while watching TV or lying in bed.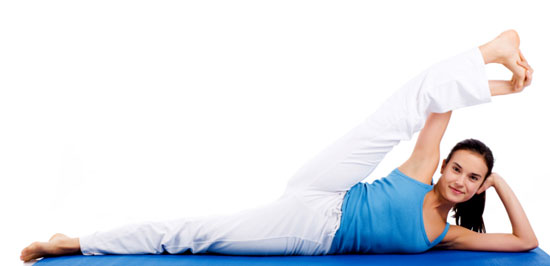 To learn how to do this simple yet effective stretch,
.
Roll onto your right side with both legs straight, propping yourself up on your left elbow. If it's hard to balance, bend your bottom knee.
Lift your right leg in the air, keeping it straight, and reach your right hand to the back of your right thigh, calf, ankle, heel, or toes. Make sure your knee and toes are pointing toward your body to target your right hamstring. Use your right hand to add weight to your leg and deepen the stretch.
After 30 seconds, release, roll over, and repeat this stretch with the left leg.