How to Stretch Your Hamstrings 2010-04-29 09:00:57
Stretch It: Reclining Splits
My tight legs crave a good hamstring stretch, and doing the splits is one of my favorite stretches because it's so effective at increasing flexibility in that area. Here's a variation that will stretch the backs of your legs in a more gentle fashion than the splits — you might even find yourself relaxing in this stretch. You can also use this stretch to increase the flexibility of your hamstrings while you work up to the full splits.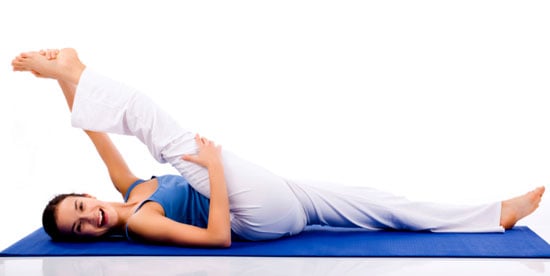 For details on why you might need a strap to do this stretch, read more.
Lie on your back with your legs straight. Bend your right knee and hug it into your chest to stretch your lower back.
Then straighten your right leg up toward the ceiling. Without lifting your shoulders off the floor, reach your hands around the back of your hamstring. If you're more flexible, reach for your calf, your ankle, or your foot. I like to hold the same spot on my leg with both hands, but you can separate your hands as shown in the photo above. If you're not very flexible, wrap a strap or towel around your leg and hold on to either end.
As you breathe deeply, slowly pull your leg closer to your torso, deepening the stretch. Hold for 30 seconds and then release your leg to the floor.
Relax for a minute or so and then repeat this stretch with the left leg.