How to Stretch Your Hamstrings and Foot
Stretch It: Squatting Hamstring Stretch
If warmer weather has inspired you to exercise outdoors more, I bet your muscles are feeling it. This stretch is for all you runners, hikers, and bikers out there whose hamstrings could use a really deep stretch. And for an added bonus, it'll also stretch out the soles of your feet.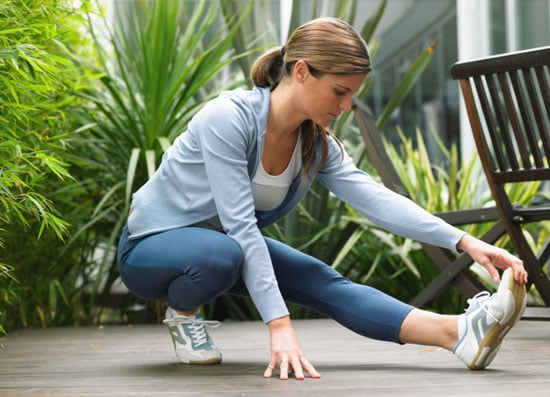 For details on how to do this move without hurting your knees,
.
Stand with your feet hip-distance apart.
Squat down and straighten your left leg out in front of you. Keep your torso up or fold forward to deepen the stretch. I like to place both hands on the floor to help me feel stable.
Point your right knee forward or out to the right side, whichever feels more comfortable. If either position hurts your knee, place it on the floor and point through your toes so you're sitting on your heel. If this still bothers your knee, place the sole of your right root against your left inner thigh, and sit on your bum. Still hurting? Just straighten your right leg.
Wherever you are, hold for 30 seconds and then switch sides.