How to Stretch Your Hamstrings and Lower Back
Strike a Yoga Pose: Foot to Hand
What's not to love about a forward bend? These poses feel so good after a run to lengthen the lower back and hamstrings — just the tight places that need a good stretch. If you liked the variation of the pose known as Big Toe Standing Forward Bend, since you hold your toes to pull yourself more deeply into the pose, then you're going to love this variation for the deeper stretch it provides while simultaneously giving your wrists a sweet release.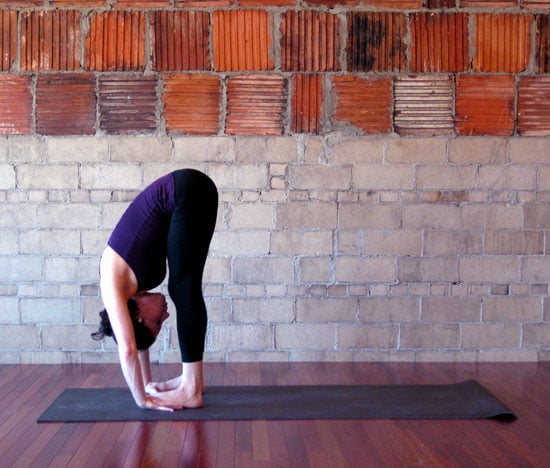 Sanskrit Name: Padahastasana
English Translation: Foot to Hand Pose
Also Called: Standing Forward Bend

Learn more details in this pose when you read more.


Begin standing at the front of your mat. Step your feet hip distance apart.
Take a deep breath in extending through your spine, and as you exhale, hinge at your hips, reaching your head out as you fold down. Lift up the front of each foot and place your hands underneath, palms facing up. You want your toes to press on the wrist creases. Bend your knees if you need to in order to place you hands in this position.
Keep your spine long, and if you can, try to straighten your legs.
Tuck your chin in, relaxing the back of your neck and releasing your shoulders away from your ears. Draw the top of your head toward the floor and your torso toward your legs by using your abdominal muscles.
Hold here for five deep breaths. Inhale to straighten your arms, and exhale to come up to standing.
Do you love talking about all things yoga? Then check out the Yoga Stretch and Tell group.