How to Stretch Your Neck and Shoulders
Stretch It: Shoulder and Neck Stretching Backbend
This stretch may look familiar if you've taken a yoga class. It's the prep pose you learn before doing Wheel pose. Also called Half Wheel, this stretch will increase flexibility in your spine and also stretch out your shoulders and the back of your neck. Because it doesn't require a lot of energy, it has both a calming and energetic effect on the body and mind.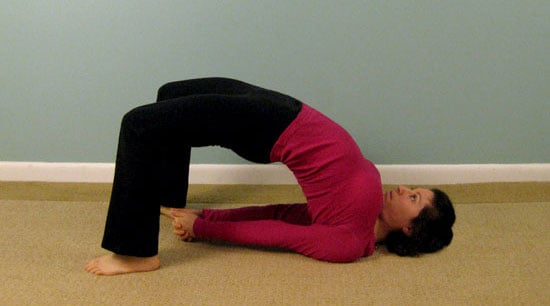 Begin lying flat on your back with your arms along the sides of your body, with your palms facing down.
Bend your knees and place your feet flat on the floor. Walk your heels as close as you can to your bum, keeping them hip-width apart. Make sure both feet are parallel.
With your palms and feet pressing firmly into the ground, lift your hips off the floor.
Stay here, or clasp your hands together below your pelvis, extending through your arms. I like to rock my weight from side to side so that I can bring my shoulder blades closer together.
Stay here for 30 seconds. Try to keep lifting the hips up as high as you can, and gaze toward your belly.
To release this stretch, gently lower your booty back to the ground. Then stretch through your lower back by hugging your knees into your chest.
This position feels great if you have been slumped over a steering wheel or a keyboard for hours. Try it and tell me how you feel.