How to Tone Your Arms For Your Wedding Day
How to Get Your Arms Picture-Perfect For the Big Day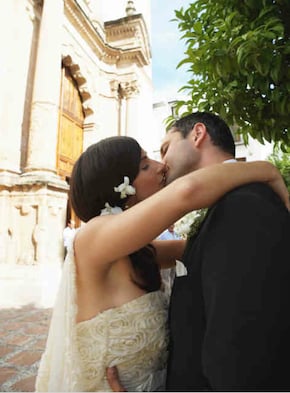 I'm in full-on wedding planning mode — I've decided on the venue, the photographer is booked, and the save-the-dates have been sent. But there's one area I haven't really tackled yet — my "get in tip-top shape for the wedding" game plan.
Here's the thing, I just want to tone up and look my best, so I don't think that requires going to boot camp for three hours a day until the big day. An area of my body that I would like to get picture-perfect ready is my arms — a neglected area that thankfully gets a decent regular workout during yoga class. Other than that, I don't do weights or targeted arm exercises. . . sorry biceps.
I'm not stressing at all, because I know if I start incorporating some of the following exercises into my regular fitness routine, I'll be all set to show off my arms when the wedding day arrives. And you will too! Here are some of my favorites:
Wedding Countdown Arm Plan: Follow this plan, which consists of many different upper arm exercises including elbow planks, hammer curls and overhead presses, and you'll have Michelle Obama arms in no time. And forget about having a great upper body for your wedding, these exercises will keep you toned for the entire Summer!