How to Train For a Mud Run
How to Train For Your First Mud Run
Those mud runs aren't for the weak — just ask attorney Amelia Boone, the winner of this year's Reebok Spartan Race. Our friends at Self got some muscle-building tips from the impressively fit amateur athlete.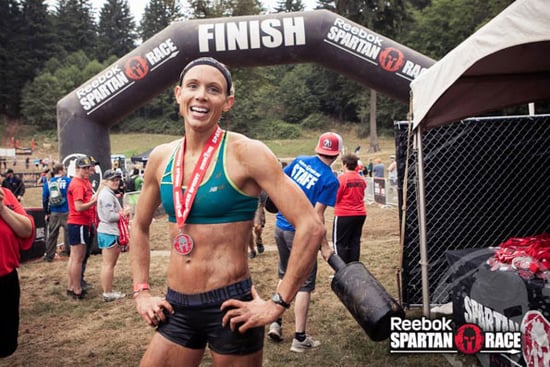 The Reebok Spartan Race held its "Spartan Beast" World Championship on Saturday in Killington, VT, drawing more than 9,000 competitors, which includes former Olympians and professional athletes, as well as "regular folk" like me and you. Spartan Beast is the series' 10- to 12-mile distance, and this weekend's race in the mountains — which climbed nearly 9,000 vertical feet overall — was one of the toughest ever.
Despite the pro-level compassion, taking home the crown (or, should we say, the warrior helmet) for the women's elite division was 29-year-old Amelia Boone, an attorney from Chicago who's been racing obstacle and adventure runs only since 2011. So where does a city girl who works 12-hour days find the time and motivation for such an extreme hobby — and moreover, can the rest of us find some of this time, too? We caught up with Boone on Sunday to get her top tips on staying in shape, having fun, and finding the physical and mental toughness to stay on top.
Find friends who share your passion. "I did my first race with coworkers. We all had fun but I was the only one who really got hooked," says Boone. So she started signing up for races by herself, "It's how I use my time off and my travel fund," she says. (Now that Boone's an elite competitor, though, she often wins money, too!) "It's a small enough world that I started seeing the same people every weekend, and so we started sharing hotel rooms and keeping in touch and really supporting each other. Now some of my best friends are racing buddies from all over the country."
Get #UpnOut. "I can't plan my workouts around meetings or my work hours, because things come up and I never know how long my day is going to be. So I'm up at 4:30 in the morning and work out for an hour or two before work every day. I used to do a lot of running and standard gym stuff, but now I do CrossFit several days a week."
Strengthen your grip. "People say that obstacle racing is all about upper-body strength, but they tend to forget about working on their actual grip." Boone says. "It's really important for all of the monkey bars and rope climbs and traverses you'll be doing on the course." Her go-to move for helping her hang on tightly? Pull-ups. Lots of pull-ups.
Take the stairs. Living in downtown Chicago, Boone doesn't get to run a lot of hills — a necessity when training for events like the one held this past weekend. So she improvises. "I do a lot of stair workouts. At one point I was training for a Death Race and I would carry bricks in my bag and take the stairs to my office on the 32nd floor before work." (She's since given that a rest — it got "boring" after a while. Ha!) "It's not necessarily about being able to run fast, but it's more important to be able to run on all types of terrain and to handle the elevation."
Think minutes, not hours. Boone finished this weekend's Spartan Beast in just over four hours, but she's also competed in 24- and even 72-hour obstacle races. And when the going gets tough, she relies on mental tricks to keep herself going. "I compartmentalize. Instead of thinking in terms of hours down the road, I think in terms of minutes down the road. I can do anything for 20 minutes, so small increments of time help me from getting overwhelmed. Instead of 12 hours to go, I just tell myself, '10 minutes to go ... then we'll move on to the next section.'"
You can follow Boone's adventures on her blog, Race Ipsa Loquitur, and watch her on October 19 when the Spartan World Championship airs as part of a documentary on NBC Sports. (It'll be the first time an obstacle race like this is shown on national TV — a testament to how popular these types of events are becoming!) Boone is next headed to the World's Toughest Mudder in November (that's one of those 24-hour ones), as well as several more Spartan races around the country. Good luck Amelia — you are truly an inspiration!
More from Self.com: