How to Use a Bike-Sharing Program
Staying Safe While You Cycle and Sightsee
San Francisco, my fair foggy city, is pro-cycling, but when I travel I'm always awed by bike-sharing programs that are popping up in cities like Paris, London, Miami, and many others around the world. The concept is simple: pay a few dollars (and swipe your credit card as deposit) and you can easily hop on one of thousands of bikes stationed throughout a city and ride for as long as you like. When you're done, you simply return your bike at any station with a free dock.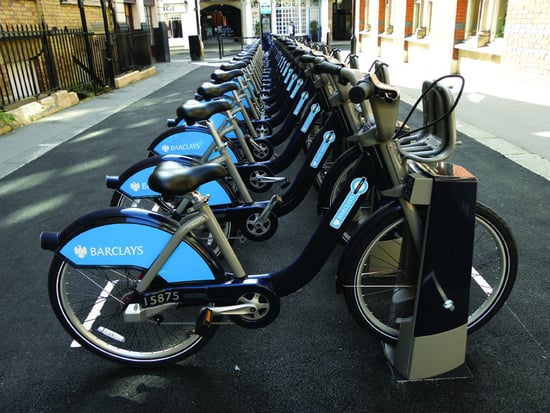 Recently while on vacation in London, I was reminded of how great the bike-sharing programs are for tourists. London's bike-sharing stations, for example, are located at all the major tourist spots and the check-out kiosks don't require an account to sign up and have easy-to-follow instructions, so I jumped at the chance to experience a biker's view of the city.
Hopping on a bike and touring a city may seem like the perfect way to take in the sights, but if you're a casual cyclist like me, a little prep before claiming your two wheels can go a long way in keeping you safe (not to mention keeping you from annoying pedestrians and motorists). Read on for a few tips that helped me stay safe during my impromptu bike ride.
Know the rules of the road. By the time I checked out my bike in London, I'd already spent lots of time in cars getting used to the local traffic laws as well as driving on the left side of the road, and it came in handy while I was navigating the streets on a bike. Make sure you're confident about road rules and understanding traffic signs — especially if they are written in another language — before you hop on a bike.
Give your bike a once-over. Some programs have ways of alerting you if a bike is defective, but it still helps to check that your bike is ready for action. Check that there are no loose parts or flat tires, that brakes work, and that all the lights are working. Also, make sure you check the gears and adjust your seat for your height before you take off as well.
Don't take risks. The impromptu nature of bike-sharing programs means you may not be carrying a helmet with you, but if you know you'll be checking out a bike it helps to plan beforehand; some bike sharing programs can point you to a equipment store where you can buy a helmet. I didn't have a helmet while I rode but limited my tour to side roads with dedicated bike lanes, was careful about crossing intersections and stopping in safe places, and didn't stay on the bike for very long.
Take a tour instead. If you aren't a regular cyclist and don't think you're quite ready to tackle the foreign roads by yourself, try an organized bike tour instead. You'll have an experienced guide to answer questions and help keep you safe, and they'll provide all the equipment (like a helmet and a well-maintained bike) you need.
Source: Flickr User EG Focus