How to Use Less Oil When Cooking
Save Calories By Learning How to Cook With Less Oil
Often, cooking at home is healthier than dining out. But if you're not careful, cooking with too much oil can lead to a lot of added calories (more than 100 per tablespoon for many oils; check out our full nutritional breakdown of different types of oils) and fat. While cooking with oils can be beneficial — many contain healthy monounsaturated fats that help lower your cholesterol — if you want to keep that calorie count down, here are some suggestions for how to cook with less oil.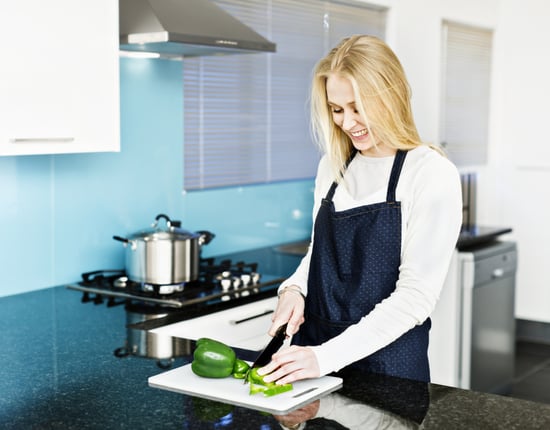 Stick to recipe quantities. If you're following a healthy recipe with nutritional information, stick to the measurements laid out in the recipe. While you may think it's easy to eyeball oil quantities, you may not realize just how many tablespoons you're using if you don't use measuring spoons.
Use a nonstick pan. Searing meats and sautéing vegetables are easier to do without using too much oil if you have a good nonstick pan. Just make sure you don't heat your pan higher than 500 degrees

Fahrenheit

(leave it on low to medium-high heat) in order to prevent the releasing of toxic fumes from the nonstick coating.
Spray it on. For adding a finishing touch of oil to dishes, use an oil mister instead of a heavy-handed pour from the oil bottle.
Steam or par-boil veggies beforehand. Making a stir fry or sautéing some root veggies? Some veggies, like broccoli, carrots, and other harder vegetables, take a while to cook in the pan. Instead, cook them a little bit before you add them to your dish so they'll cook faster without needing all that oil.
Use a little bit of water. Some porous vegetables like eggplant end up soaking in all the liquid in your pan. Instead of continuing to pour in oil to compensate, use a little bit of oil and add water. Add spices as necessary if you feel like the dish tastes too bland.