How to Use the Talk Test to Determine Workout Intensity
Fit Tip: Use the Talk Test to Measure Your Workout's Intensity
When you exercise, how do you know if you're pushing yourself hard enough? Try the Talk Test — it's one of the best ways to measure your workout's intensity, according to a new study.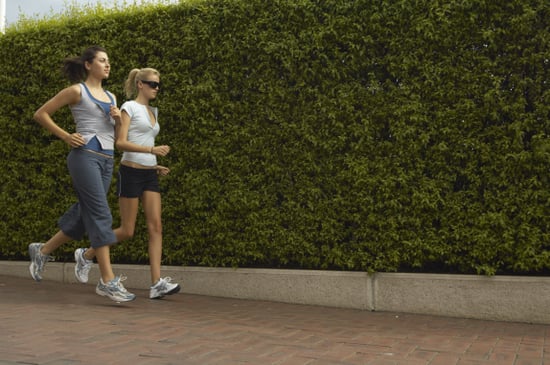 The Talk Test measures how easy or hard it is for you to hold a conversation while exercising to gauge how intense your workout really is (similar to the Rate of Perceived Exertion scale). To test its usefulness, researchers studied healthy adults by making them recite the Pledge of Allegiance while exercising at varying intensities. Then they compared the results — whether or not it was hard for the exercisers to recite the pledge — to established intensity guidelines to see how this often-used test actually compares to more definitive measurements like heart rate and maximum oxygen consumption. Researchers found that being able to talk comfortably while exercising correlated to the lowest end of the intensity scale, while struggling to speak when exercising matched up with the high end of the intensity scale.
Confirming the effectiveness of the Talk Test means that it's a quick and easy way for you to gauge how intense your workouts are, especially if you are new to fitness. "If you are beginning an exercise program and can still talk while you're exercising, you're doing OK," says Timothy Quinn, the study's lead researcher. "But if you really want to improve, you've got to push a little bit harder."
So grab a running buddy and gab all you want, but just make sure that when you want to up the intensity you're focusing on your workout, not the latest gossip!