How to Use Yoga Blocks and Foam Rollers
Workout Essentials That Aren't Just For Yogis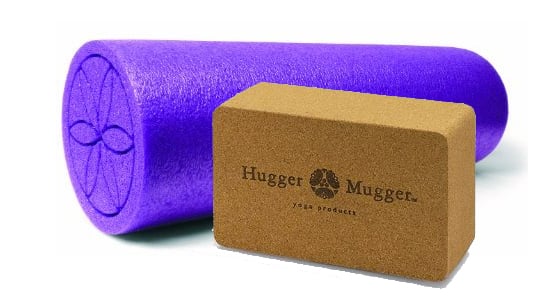 The first time you walked into a yoga studio you probably saw a wall of blocks like the ones above, and a few of these foam cylindrical tubes lying around too. I'll admit it, at first I didn't quite know what purpose either of these items served. But after taking a few classes that incorporated both blocks and rollers, I was instantly hooked! What's great about both yoga blocks ($15) and foam rollers ($20) is the fact that they are not only for Pilates and yoga classes (although they are superb with both), but they can help you in your everyday workout routines as well. Keep reading to find out why.
In yoga, blocks are helpful for achieving certain poses, but they can also be used for deepening stretches, and in strength training exercises that require you to support the weight of your body. Check out this video tutorial on how to perfect your vinyasa "jump through" using yoga blocks. Also, if you do any exercises in a seated pose, blocks can elevate your hips above your knees and reduce additional pressure on certain muscles or joints. One of my favorite things to do is lie on my back, turn the block on its side, and put it under my lower back. You can either put it longways for a deeper stretch or keep it on its side for a medium stretch. I find that this stretch feels amazing for my lower back — and my stomach loves it too!
With the foam roller, you can either enhance various yoga positions, or you can use it to massage yourself. Rollers are great for stretching too; try this hip flexor stretch that is gentle on the knees and quite relaxing. A foam roller never goes amiss in my house. By following various massage moves, I am able to soothe tired, sore muscles after my workouts. Your muscles will thank you!