How Walking Outside Burns More Calories Than the Treadmill
3 Reasons to Take Your Walk Outside
Walking briskly is a great option for those looking to do a low-impact workout that's easy on the joints or one you can squeeze into your workday without needing a shower afterward. You could hit the gym and walk on a treadmill, but if you want to burn more calories, here are three reasons you should take your walking feet outside.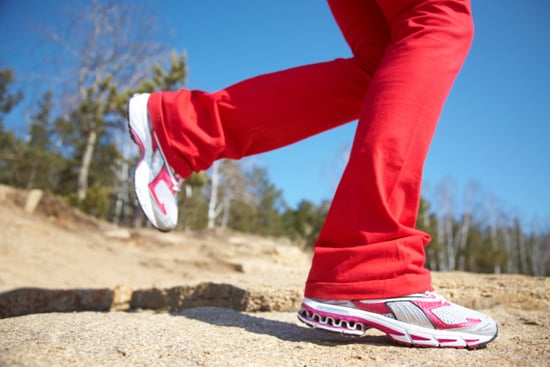 A treadmill belt is flat, consistent, predictable, and constantly moving. All these factors mean it doesn't take much effort to propel your body forward with each step. On the contrary, if you take a walk outside, you're constantly having to react to uneven terrain, or dodge obstacles such as people, holes, or sticks. This taxes your muscles more than using a treadmill, which translates to extra calories burned per minute. To increase your calorie burn even more, walk on trails or in the sand rather than sidewalks or paved bike paths.
You can pump up the incline on your treadmill to work your butt and thigh muscles, but you can find even steeper hills outdoors. The steeper the incline, the more calories you'll burn, so when you head outside be sure your workout includes some major hills.
Stepping outdoors for your workout is much more inspirational than a repetitive walk on your gym's treadmill. The gorgeous scenery, fresh air, and constantly changing environment has been shown to inspire people to walk longer. Increase the duration of your workout, and you'll end up burning more calories.