How to Warm Up For a Workout
How to Warm Up For Every Type of Workout
You know that you should warm up no matter what, but if you ever wondered what exactly you should be doing, here are specific warm-ups for different kinds of workouts.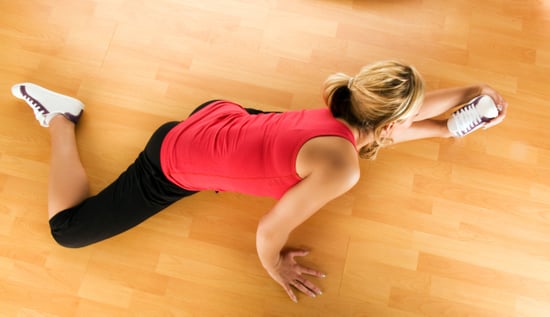 Yoga: Think you don't need to warm up before yoga? Think again. Warming up before your class can help your performance and keep you from being sore the moment you stretch out into Downward Dog. Keep your wrists, shoulders, and back muscles loose with these four upper body warm-up ideas you should do before your next yoga class.
Running: Walking briskly or jogging is an easy way to warm up for your actual run. But if you want to warm up in a way that targets your muscles specifically, dynamic warm-ups are the way to go. These warm-ups raise your heart beat and loosen tight muscles while you perform the moves, making you primed to have a good run. Try this short dynamic warm-up before you go out for your run.
Find out more ways to warm up after the break.
Weight training: Don't forget to prep your muscles before grabbing those heavy weights. You should start off with a few minutes of light cardio first to get your heart pumping and muscles warmed up. Try either running on the treadmill, jogging in place, or doing jumping jacks for five minutes; from there, ensure your muscles are ready for weight-lifting action by stretching your hips, hamstrings, core, and upper body with these five ways to warm up for strength training.
All around: You don't always have to tailor your warm-up to your workout. As long as you are taking the time to prep your body for exercise instead of starting cold, you'll be ensuring that your muscles are properly primed. If you have a warm-up routine that you use for every workout, it becomes automatic, no matter what exercise you're doing. Try this dynamic warm-up that includes mountain climbers, push-ups, and shoulder stretches, or use this move, called the carioca, that actress Jennifer Lawrence used before her Hunger Games workouts.