How to Work Out Outside in Winter
Your Winter Workout Woes — Answered!
We are excited to share one of our fave stories from Fitness Magazine here on FitSugar!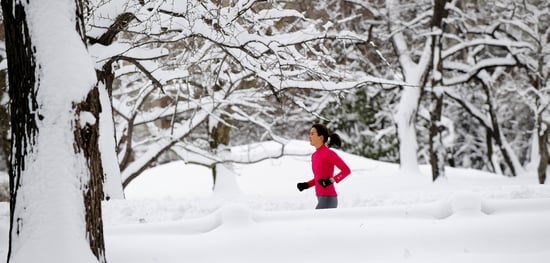 Baby, it's cold outside! But for those of us training, sans gym membership, or just yearning for some fresh air, we can't let the chilly weather keep us from an outdoor workout. If you find your morning runs too cold, have achy joints, or just want to make it through a run without wiping out, we hear you! That's why we asked Dr. Scott Weiss, clinical director and owner of Bodhizone Physical Therapy, your burning cold-weather workout questions. Read on below to see how you can have a successful workout no matter what the weather.
The cold weather makes my joints hurt! What stretches can I do before a workout to stop constantly feeling sore?
If cold weather is making you sore, the worst thing to do is go and stretch since you're more likely to pull a muscle or tear some cartilage. In the cold weather, the key is total body warmth. Spend a little more time warming up, by adding 5 to 10 minutes to your normal warm-up routine. Stretching while your joints are warm will then enhance flexibility and range of motion while also reducing your chance of injury.
Sometimes when I go for a run in the Winter, my toes lose feeling. Why is this happening and how can I fix it?
Most of the time numb toes are a minor circulatory or footwear issue. Try making a fist with your toes, or do some calf raises to get the blood pumping. Once you get home, be sure to elevate your feet to relieve the pressure. If tingling persists, it could be something more serious (like frostbite), and you should contact a physician.
I'm terrified of black ice. What are some tips to avoid it?
Make sure you stay focused on the heel contact portion of the running cycle in icy conditions. Oftentimes, we don't think about how we are landing our feet, and if even slightly unbalanced while landing on ice, you risk falling. If you live in an especially icy area, consider trail shoes, which have a better grip.
Read on for more Winter workout solutions from Dr. Weiss.
More from FITNESS:
• Immunity-Boosting Tips to Stay Cold-Free This Winter
• Get the 2012 Best Body Ever Plan