How to Work Out When Your Gym Is Crowded
Gym Strategies For Crowded Days
Ah, January. For many gym-goers, it's their least-favorite time of the year to exercise. The influx of New Year's resolutioners can be hard to manage, whether you're one of the newbies or a years-long gym member! While you navigate the crowds while everyone shapes up, here are a few strategies to remember when it comes to staying calm during a crowded gym day.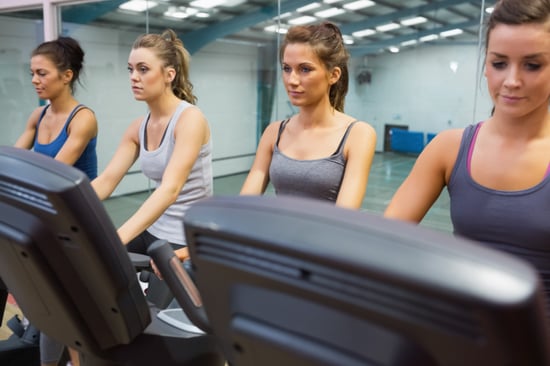 On your mark: The key to getting in and out of the gym fast is to do as much of your prep beforehand. Fill up your water bottle before you go and wear an outfit that you can change easily out of, as well as shoes that slip on and off easily. If you go to the gym at popular times, like before or after work, wear non-bulky clothes that you don't have to hang and shoes instead of boots so if there aren't any lockers available you can carry all your stuff with you in your bag to the gym or class floor. Get more time-saving gym tips here.
Skip the line: Sure, you can stretch and squat while you wait in line for the treadmill, but if you've only got a little time, skip the line altogether. There are plenty of other ways to get your cardio. Do a few minutes on the rowing machine, or find a jump rope and do 10-minute sets. Occasionally swapping out your normal run with another form of cardio will make you a better runner and work different muscles as well. Check out more non-treadmill cardio ideas here.
Find a corner: Is your favorite strength-training class too full? Make up your own circuit workout. There's often a corner of the gym that's empty with ample enough space to spread out and work out. Keep a few of our printable strength-training workouts in your gym bag so you have a workout plan at all times. Now find a free spot, grab your equipment and a mat, and blast your favorite workout playlist on your iPod to tune everyone out and focus on your workout.