"Huge" TV Show All About Obesity Acceptance
"Huge" Step Forward in Obesity Acceptance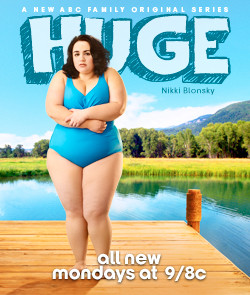 Although dropping pounds is central to reality TV shows like The Biggest Loser and One Big Happy Family, these weight loss series might have paved the way for "fat acceptance" in Hollywood.
Airing on the cable channel ABC Family, the scripted hour-long drama Huge follows seven teenagers and staff of Camp Victory, a fictional weight loss camp. The characters may be played by actors, but their bodies and issues are real. In Huge, the characters aren't being made fun of or pushed to lose weight, but rather the ins and outs of their lives are chronicled; their stories are told, making the show more accepting of obesity. The main character, Willemina, isn't ashamed by her weight at all and doesn't see the need to drop pounds, a refreshing departure from how obese people, especially women, are usually portrayed on TV.
Huge is quickly becoming a huge hit after only its first episode. Interested in seeing a clip? Then read more.
If you want to see more, check out Huge on Mondays at 9/8c on ABC.