Humans Are Built For Endurance Not Speed
Running and the Evolution of Endurance
If speed ain't your thing, don't worry — humans aren't really built to go fast. As we evolved and moved out of the trees, humans began to walk upright with obvious benefits to "hands-free" locomotion — look how far we've come. But one major drawback about becoming bi-pedal: it slowed us down. A recent article on the subject on NPR explains that "in a tiger-eat-monkey world, two legs were slower than four."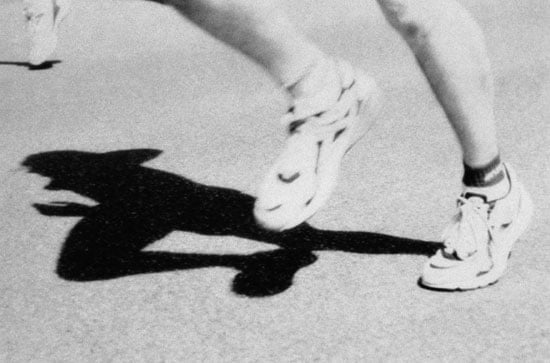 The upside of our being upright, however, is endurance. Anthropologist Daniel Lieberman feels humans evolved to outrun quick prey over long distances. One of the advantages we have over four-legged creatures is we cool down by sweating, while possible prey like a gazelle must pant while sprinting, which adds up to overheating and an eventual slowing down. We may lose the speed race, but we can maintain a quicker pace over a longer period of time, giving us a different advantage.
To learn how the "new" movement toward barefoot running fits into the evolutionary process, read more.
Unsurprisingly, Lieberman is also a proponent of barefoot running, or at least wearing minimalistic footwear. After studying the gait pattern of barefoot runners (remember our ancestors didn't have access to Asics), he found they naturally landed on the balls of their feet. Heel striking is just too painful, but when the ball of the foot makes contact with the ground, elastic-like energy is stored in the ligaments and Achilles tendon.
Lieberman's advice for long distance runners:
"When you're in the marathon and you're wondering at mile 16 or 17 what on earth you're doing, remember, you're chasing a kudu. That's what you're doing. You're re-enacting that chase from a million years ago."
I am not sure if the image of chasing down an antelope is enough to inspire me to run 26.2 miles, but I do like how this theory on running supports the notions that "slow and steady wins the race."