An Ice Skating Move to Tone Legs
"Skate" Your Way to Tone Thighs
What do Apolo Anton Ohno and Bonnie Blair have in common? Besides being Olympic speed skating heroes, they both know how to work their legs into tip-top shape. While I wouldn't dream of recreating their entire fitness routine, I have taken a page out of the ice skating training manual. New to my cardio workout is the "skater's lunge," as my fitness instructor dubbed it, and it requires nothing but stamina and sneakers — skates are nowhere in sight.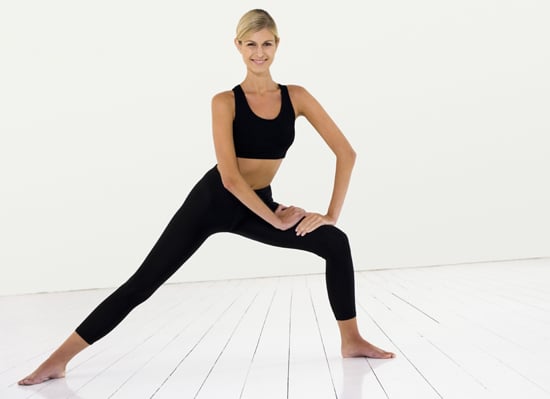 Curious to see how to do the heart pumping leg working exercise?
We all know how to do simple lunges, but this motion takes it a bit further. Start with your legs about three feet apart and feet pointed forward. Drop into a deep side lunge with your hands on the left knee. Inhale as you come up and exhale on your way over to a deep right lunge moving your hands to the bent knee. Inhale and come up for a second before bouncing back to the left side. Repeat the back and forth motion for 30 counts (15 each side) for three separate sets.
Alternative move:
If you want to feel a bit more like a speed skater, you can incorporate your hands into the motion. When you come down into the lunge, drop the inside hand (right hand for left lunge and left hand for right lunge) and touch the ground just on the inside of the foot.
At the end of the workout, you will feel the burn on the inner thighs and your quads. And, you just may deserve a gold medal for all your hard work.