Ideas For Double Workouts
Easy Ways to Double Up on Workouts
Some days one workout just doesn't seem like enough. If you feel like getting in double the workouts, either to increase your calorie burn, to work different muscles, or just because you love exercising, here are some easy ways to make it happen.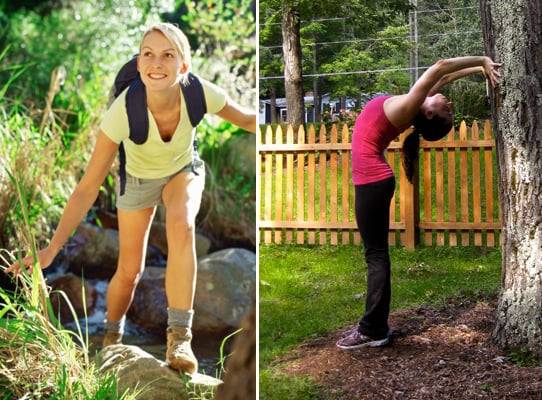 Bike to your 90-minute yoga class.
Hit your gym's pool to swim laps for 30 minutes and take a Body Pump class afterward.
Go for a run outside or on the treadmill and then grab your dog (or a friend) and take a walk around the neighborhood.
Take a hike and every 20 minutes go through these six tree stretches.
Do a strengthening DVD in the morning and hit an evening spin class.
After Zumba, head home and do this Full-Body Circuit Workout With Weights.
Go through a strength training routine using an exercise ball and after dinner, head out for a night of dancing (or a dance party in your living room).
If there's snow, go snowshoeing or cross-country skiing and stretch in front of the fire when you get home.
Make sure doubling up on workouts doesn't leave you fatigued, unreasonably sore, or low in nutrients. You might need to increase your calorie intake, lower the intensity or duration of your workouts, and get more rest. Varying your workouts is also a must to avoid overuse injuries.