Increase Wellness by Staying Offline When Work Ends
Minutes to a Healthier You: When the Whistle Blows, Unplug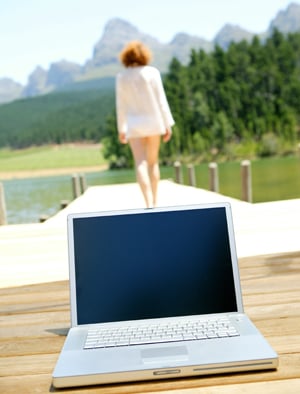 The Internet seems to occupy a good chunk of my life. As a writer I'm constantly online, whether it be posting stories, doing research, or chatting with colleagues. And on a personal level I have my vices: Facebook, Twitter, and an RSS feed that seems never ending. But in the last month I've been questioning the amount of time I spend online; I'm starting to show slight signs of carpal tunnel syndrome, and I've been told by numerous friends that I'm on my iPhone way too much — they call it iRude. The point is, I need to slow down.
While staying connected is a good thing, being online isn't the only way to make that happen. Unplugging helps your body recharge, and it lets you reconnect with the world around you. Turning off electronics gives you more time to be active and also gives you more time to focus on the relationships in your life. To make this more of a priority, I have a new rule in my life: when work is over for the day, I turn the computer off. I also leave my phone at home when I'm out with friends for the night. And even though it may sound crazy in this day and age, it's actually liberating. And more importantly, my friends appreciate it because I am completely focused on the present moment.
See if you can challenge yourself to unplug when work is over. Keep your laptop shut off, put your phone away, and go on a walk, take your BFF to dinner, or read a book instead. Let me know how it works for you!