Infographic From GOOD That Breaks Food Down by Region and Season
Always Be in Season
At Fit, we often talk about the importance of eating local and organic produce. It's grown without harmful pesticides and fertilizers, travels a shorter distance to get to you, and buying locally produced fruits and vegetables helps support small farms.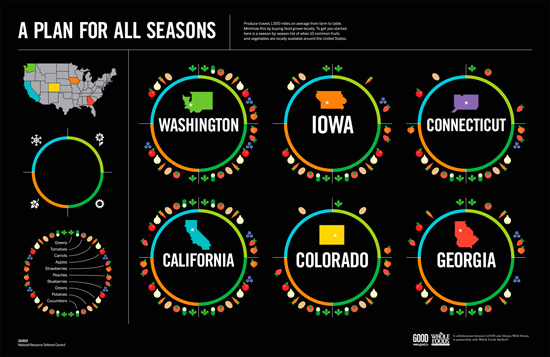 Shopping locally is not without its problems, though. Organic and locally grown food can be expensive, which is why it's good to know what's worth always buying organic. Convenience can be an issue too — especially if you don't live near a farmers market — but subscribing to a CSA can help with that. Sometimes it's just hard to know what's in season, which is important to me because I like buying the freshest produce available.
The folks over at GOOD have made shopping seasonally a little bit easier by developing this great infographic — it displays what produce is in season depending on where you live. The infographic covers the 10 most common fruits and veggies consumed and breaks down their availability by region. Now you can figure out the closest place to buy a particular fruit or vegetable if it's not in season where you live.
I'll definitely be printing this out and hanging it on my fridge — how about you?