Inner Thigh Circle Exercise
Enhance Your Leggings With This Inner-Thigh Exercise
Start working your inner thighs now to look sculpted in cute Winter leggings all season. Unlike most thigh exercises, this one is done on the ground, so you can use the control to tone your thighs. Try it anywhere and get ready to show off your new slender gams.
Set-Up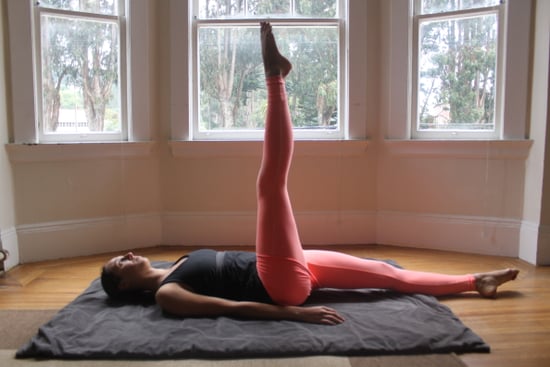 Start by lying flat on your back on a mat or rug.
Extend your right leg straight into the air, pointing your toes.
Keep your arms by your side, pressed into the floor for support.
Circle out

Open your right leg to the side, leading with your toes.
Make sure your hips stay down while your back remains connected to the floor.
Close

Draw your right leg down toward the opposite leg while keeping it lifted from the floor.
Extend your toes back up toward the ceiling and continue the circle motion for a minute or 30 to 40 times before reversing.
See the rest of the move after the break!
Reverse Directions

Once you finish circling in the other direction, switch legs to work your other side.
Do stretch in between switching sides.