Inspiring Sports Memoirs About Women
3 Sports Memoirs That Will Change Your Outlook!
You've heard about, witnessed, or maybe even watched remarkable athletes, but have you read about them? Searching for an inspiring story, we found three memoirs that have to be shared. From coach Pat Summitt's perspective on life to Olympian Amanda Beard's journey to find herself, it's clear that the podium is just a small piece of the overall journey. These books are honest and open accounts of three women who have fought their way to the top and will motivate you well beyond your next workout!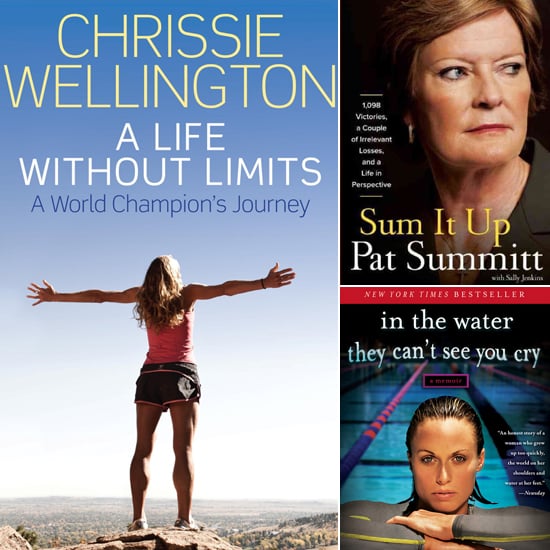 A Life Without Limits: A World Champion's Journey
A must read for anyone passionate about triathlons, A Life Without Limits ($15) is the firsthand account of Chrissie Wellington. In 2007, Chrissie won the Ironman World Championships in Hawaii — as a newcomer. But there's more to her than shaking up the sport and shocking the press. In this book, she opens up about a journey that has taken her around the world and the challenges she had to overcome, like anorexia and near-drowning. Bonus material: Chrissie includes a few diet, training, and motivational techniques that have helped fuel her through one of the world's most grueling events.
Sum It Up: 1,098 Victories, a Couple of Irrelevant Losses, and a Life in Perspective
Simply put, Pat Summitt can handle anything that comes her way; after reading Sum It Up ($28), you'll know why. The all-time winningest coach in NCAA basketball history, Pat opens up about her victories and challenges, the biggest being early-onset Alzheimer's disease. Despite her devastating diagnosis in 2011, she continues to turn setbacks into success — all with a sense of humor!
In the Water They Can't See You Cry: A Memoir
Amanda Beard is more than the little girl holding her teddy bear at the 1996 Olympic Games. Not only did she go on to compete in three more Olympic games, winning a total of seven medals, but she also has an incredible story to go along with it. Beyond her smile, success, and cover spreads, she is honest about her struggles with depression, an eating disorder, and unhealthy relationships. Her story is real and inspiring. After all, In the Water They Can't See You Cry ($16).