Instead of Criticizing Yourself, Focus In on What You Love About Your Body
Speak Up: What Do You Love the Most About Your Body?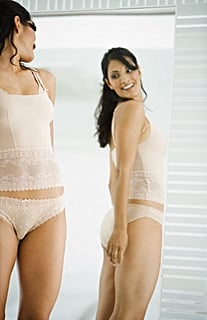 I am loving that so many of you are taking part in our Get Fit For 2010 community challenge! Your stories are more than inspirational and I love that you're participating in the challenges.
When we're trying to lose weight or strengthen our bodies, it's easy to zero in on our problem areas. Heck, I do it myself — the other night at the gym I got a little down on myself for not having stronger arms. And while I think it's a good thing to recognize what areas we're trying to improve, focusing on the negative can tweak our body image in the worst way.
The next time you're feeling down about your weight or the way your body looks, focus in on something you really like about yourself. If you can't do that, then try visualizing the end goal of the path to fitness you're currently on — you're getting fitter, healthier, and stronger, and that's great. That night at the gym I quickly recovered by telling myself that I may not be as strong as I want to be, but I will get there soon. And even though I wish my arms were stronger, my legs are doing just fine!
How about you — what do you love the most about your body?