Intense 20-Minute Workout From Bob Harper
Short, Sweet, and Intense 20-Minute Workout From Bob Harper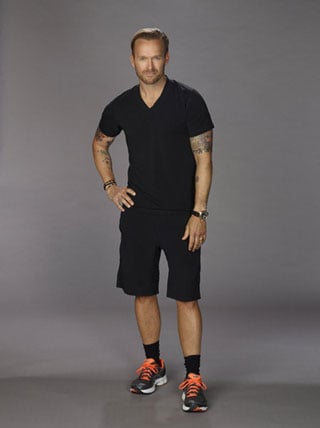 As a veteran trainer on The Biggest Loser, Bob Harper never shies away from intense workouts. But an intense workout doesn't necessarily need to be a long one. In a recent interview with us, Bob explained that when you're short on time, you can still burn megacalories, but "you've got to take that meter of intensity and jack it all the way up." If you only have 15 to 20 minutes, you can still burn significant calories and boost your metabolism without any equipment. Bob gave us a high-intensity workout that pairs running with body-weight exercises — check it out after the break.
Directions: Repeat this circuit three times. In the running segments, run as fast as you can. For the strength-training exercises, jumping lunges (aka split squats) and push-ups, try to increase the number of reps per minute by one with each circuit. Trying to best yourself in each round will help keep the intensity up.
| | |
| --- | --- |
| Run | 200-meter sprint |
| Burpees | 10 |
| Run | 200-meter sprint |
| Jumping lunges | 60 seconds |
| Run | 200-meter sprint |
| Push-ups | 60 seconds |
Simple, right? But probably not easy. Looking for a little more inspiration? Bob sells this workout like this: "With this workout, you will run over a mile, at the highest speed that you can, and then incorporate body conditioning without any equipment but a good pair of running shoes." Are you inspired to try it?