Intense Cardio to Do If You Hate the Treadmill
Intense Cardio For Those Who Hate the Treadmill
I'm a fan of the treadmill, but I have many otherwise fitness-loving friends who'd rather do almost anything else than a 30-minute gym run. If you're the same, here are other ways to reap the same calorie-burning benefits without a seemingly boring run.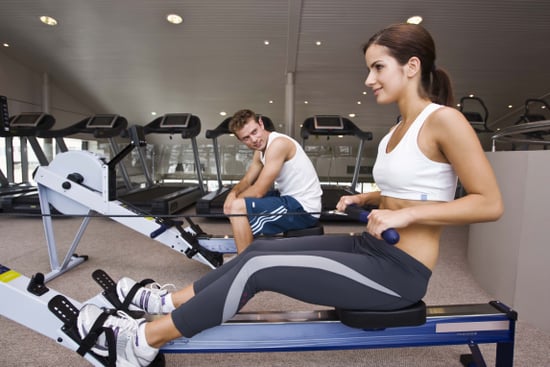 Try a different machine: Think your cardio only comes from the treadmill? Think again. Raise your heart rate with another machine at the gym. Try a spinning class to burn major calories, check out the row machine for an all-body workout, or go full-force on the elliptical. Each of these will burn major calories while being less hard on your legs and knees.
Intervals: Many people say they hate the treadmill because it's boring and don't think that they can run for a long time. High-intensity intervals help in both these cases. And you don't have to stick to the treadmill. Bundle up with your favorite cold-weather running gear and hit the trails, and alternate your vigorous runs with jogging.
More intense cardio ideas after the break.
Supersets: Out of time? Kill two fat-blasting birds with one stone by supersetting your strength training workouts. Doing each exercise set in quick succession keeps your heart rate up, meaning you're getting your cardio while also building muscle.
Jumping rope: There's a lot to love about jumping for fitness. Jumping rope requires little room and just a small investment, but it's got a big calorie-burning payoff: just 10 minutes of jumping rope (at a quick pace) can burn 132 calories. And it's travel-friendly, so you can fit in a sweat session even if there's no treadmill in sight.
Dance class: There's a reason why there was never a treadmill craze as big as the Zumba trend that swept the world. Going to a dance class can make fitness fun — so fun that you look forward to your workout instead of dreading it. And since some classes, like Zumba, are easy for beginners to enjoy and can burn about 500 calories in just one session, they be an optimal choice for those who hate to run.