Interview With Celebrity Trainer Harley Pasternak About Working With Lady Gaga, Kanye West, Common, Katy Perry, and Alicia Keys
Harley Gives Us an Inside Peek at His Celebrity Clients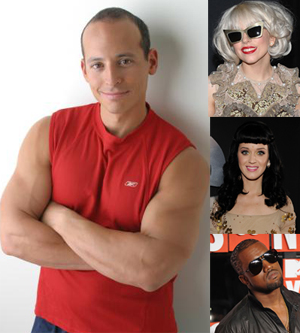 Harley Pasternak is a busy guy. In about the span of a week, he left his training duties on the Lady Gaga tour in Europe, headed home to LA to see 10 clients, and then crossed the Pacific to Hawaii for two more. When I finally caught up with him in Tampa, he was already planning his departure to Toronto, his childhood home.
Harley — whose client list reads like a who's who of Hollywood — never expected that he'd become THE go-to trainer for the stars. "I was studying to be in medicine," says Harley. "Personal training was something I did; it was a side business that grew and grew and next thing you knew I had three studios and 12 trainers and I was like, 'OK, I guess this is my career.'"
He describes his work as "the coolest thing in the world," and it's easy to understand why. Not many people can say they shoot hoops with Kanye West and Common or hang backstage with Katy Perry, Alicia Keys, and Lady Gaga. Working with musicians seems to be his current thing right now, "They're very creative people, they have more control over their own destiny to the extent that they tend to be a little more stable," says Harley. "I enjoy working with actors too but actors are more project-to-project where musicians have an ongoing thing."
Harley pulled back the curtain a little bit and shared with me what it was like to work with these amazing artists. To see what he had to say about each one of them, read more.
Lady Gaga. In the kitchen, Lady Gaga, or Gaga as he — and everyone else — calls her, is a bit of a chef, even helping him develop recipes for his 5 Factor World Diet book. "As I presented the recipes for the 10 healthiest countries in the world, she suggested mixing and matching the ingredients from different countries," Harley says. "She would make a salad or a stir fry and bring elements of Italy and Japan together into one recipe, which was really helpful to me."
Kanye West. Through several world tours Harley has grown pretty close to Kanye. "Everyone gives him a hard time for the things he says and does, but all the bad things you see in the public, those are all the bad things about him. Every bad thing about Kanye you know." The Kanye that Harley knows is "interesting, inspiring, passionate, and creative." Says Harley, "No one has more energy than him, training him is amazing."
Common. After four years of working together, Harley says that Common has become a close, personal friend. Not only is he one of Harley's favorite clients, he also one of the "hardest workers" he knows. "Common has a movie coming out called Just Right and he is the lead. When people see his body they are going to be talking about it for a year."
Katy Perry and Alicia Keys. Harley says one of the biggest perks from his job comes from working with clients that he's also a fan of, like Alicia and Katy. "I'm just a huge fan of them both," says Harley. "It's just amazing to work with really creative people who are doing wonderful things that I get to enjoy their craft as well."
Stay tuned for eating and exercise tips from Harley coming to you later this week.