Interview With Choreographer Stacey Tookey From So You Think You Can Dance
Emmy-Nominated Choreographer Stacey Tookey on Inspiration, Health, and SYTYCD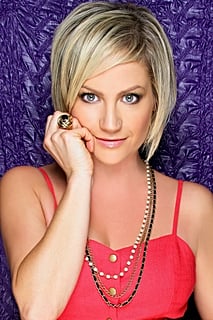 Emmy-nominated choreographer Stacey Tookey is famous for her work on So You Think You Can Dance, but she's also worked with many celebrities, including Christina Perri, Justin Timberlake, Celine Dion, Bette Midler, and Michael Buble. Initially pursuing a career in classical ballet, Stacey has since done work across all dance genres including jazz, hip hop, and contemporary. We learned more about what inspires Stacey's work as well as how she keeps her body healthy and fit despite her demanding schedule.
FitSugar: What inspires your choreography?
Stacey Tookey: My inspiration definitely starts with music. Especially for So You Think You Can Dance, you have to get the music approved beforehand, so I don't start the choreography and the whole concept before approval. I pick music I'm drawn to, sometimes because the artist's voice is so pretty, raw, and passionate. I also love violin, because it tears at my heartstrings. I want to choreograph something that makes people feel something and walk away with an impression and an emotion. I am also drawn to new artists.
FS: Can you tell us how you "discovered" Christina Perri?
ST: When I choreographed "Jar of Hearts" on SYTYCD a year ago, Christina was not signed, and she was trying to make it as an artist while working at a cafe in Beverly Hills. The first version I heard wasn't even a produced version – it was on my friend's computer. She got the song produced so it could be on the show. Her manager put it on iTunes just in case viewers wanted to download the song. At the time, no one had heard of her. The night it aired, she was the number one googled thing in the world. The next week she was flown to NYC to choose from a handful of record labels wanting to sign her, just from her exposure on SYTYCD. I saw her last week at the end of her headlining tour, and seeing her on stage like that made me cry. I felt like a proud parent. People like that are unseen all the time, but I'm glad that I had something to do with her success.
Read more about Stacey Tookey.
FS: What was it like to work with Melanie, the winner of this season's SYTYCD?
ST: I absolutely adore Melanie. From the very first moment I got to work with her, I felt like we've never had anyone like her on SYTYCD. She has this wisdom beyond her years when it comes to her performances. She has beautiful, solid technique, but on top of that, she has that thing that you can't teach. She's an artist and she has something to say. Everything you saw on TV, personality wise, is how she is in real life. She's humble; she's the biggest sweetheart; and she was in the competition for the right reasons. She was pushing herself but was never out there to beat anyone or push anyone down. That's why everyone fell in love with her.
FS: How do you stay in shape, especially since you are on the road so much?
ST: I think Pilates is a great way to stay strong, because it was designed for dancers. When you are about to do a full performance, you don't want to work out at the gym for three hours. For me that doesn't worked; I have to pace myself. I usually do yoga or take a Pilates class to keep my body in shape but not strain it. Sometimes I'm traveling three countries in a week and am lucky if I can do a warmup by myself in the studio before I begin creating.
FS: When choreographing, are you still dancing the moves yourself or are you on the sidelines?
ST: I recently had hip surgery. It's been traumatic, because a week after the surgery, I was in crutches trying to choreograph. It was very frustrating for me, because I still like to choreograph with my body. I had to start creating in a chair and depend a lot more on my assistants. I'm used to doing my daily workout, going into the studio, creating with my body, and sweating. When you are not able to do that, the reward is now how the work looks through someone else. I'm going through a bit of a transformation now.
FS: What does your diet look like, and how do you maintain it?
ST: I have a lot of diet restrictions and food sensitivities. I see an acupuncturist who has honestly changed my life. She makes sure my body is in optimal shape for all the traveling and long hours that I work. I don't eat gluten, dairy, or processed sugar. I just dropped coffee this past year. That was huge one for me. It's not easy to keep on the road, but in my house, I don't have any of those foods. I start my day with a green smoothie. I'll pack a blender if I have to to get my smoothie with kale, spinach, pineapple, celery, protein, flax seed oil, and coconut water. I know that if I fall off track later in the day, at least I started out with all those greens.