Interview With Ultramarathoner Deanna Stoppler
Interview With an Ultramarathoner: What It Takes to Run More Than a Marathon
I run a few times a week, about 10 to 12 miles total, but I wouldn't consider myself a runner, especially not after interviewing Deanna Stoppler, an ultramarathoner. At 32 she has completed dozens of marathons and a handful of ultras — races that are longer than the typical 26.2 marathon distance. If you ever wondered what it takes to run such extreme distances, or why a person in their right mind would ever want to do it in the first place, check out this amazing interview.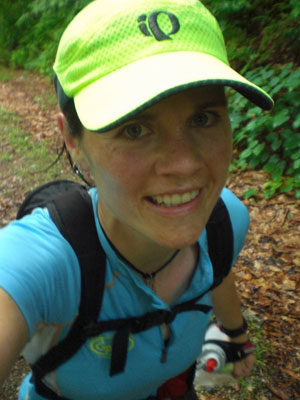 FitSugar: How many miles long were the ultras you've completed and how long does it typically take a woman to complete?
Deanna Stoppler: I have completed ultras from 40 and 50 miles to 100 km (62.14 miles). I have not completed a 100-miler yet. It really depends on the course, weather, and fitness level, but I'd say plan to be out anywhere from six to 24 hours (100-miler) or more.
FS: How did you get into this type of racing?
DS: I started out as a marathoner. When I read Dean Karnazes book Ultramarathon Man, I knew that trying an ultra was the next step for me. He started completely out of shape and has gone on to complete extraordinary feats.
FS: How do you train for this type of race? What other types of exercise or cross training do you do to complement your running?
DS: The main thing is to run back to back long runs, usually on a Friday-Saturday or Saturday-Sunday schedule, increasing distance over time and tapering a couple of weeks before the race. I avoid running on pavement as much as possible. I do sit-ups and push-ups every night, and when I have time, I try to do core exercises with an exercise ball. I used to stretch but I don't do that anymore. It seemed to make me more sore the next day. I also use a Tiger Tail roll bar when certain muscles get tight.
FS: How do you keep going for that long? What techniques do you have when you feel like you want to stop?
DS: I try to start out slow because everyone runs like bats out of hell at first. I stay near the back and slowly work my way up. I don't sprint in ultras, although, in one race I did run faster for the last three miles because I didn't have a flashlight and didn't want to get caught in the dark. I continue to ingest calories even when my body says not too (digestion slows when you exert that much energy). I do math in my head for hours on end! Mostly it's math about the next time that I need to take a GU shot, ingest S-caps (electrolyte tabs), and fill my water. I try to think about how awesome it is that I'm doing this and that it's only one day out of my entire life.
Continue reading to find out what ultramarathoners do about going to the bathroom.
FS: What's your prerace meal?
DS: Pasta! I like to have plain old pasta with red sauce and spinach, and a glass of wine. My old running partner, Jeff, swore by his steak and beer the night before an ultra. Uck!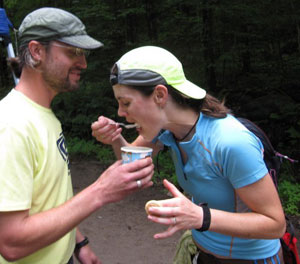 FS: What do you eat and drink during a race?
DS: I carry either a handheld water bottle or a hydration pack. I use Nuun tabs in the water and consume GU energy shots during the run. GU Chomps are tasty too, but they require a lot of chewing. For the Pittsfield 53-miler my husband, Dave, and our friend Jimi met me at one of the last aid stations with a pint of Ben & Jerry's Cherry Garcia. It hit the spot! You can't really run fast after eating ice cream though. The less digestion needed the better. But ultras are so different compared to city marathons in regard to food! At Ultra aid stations you'll find M&Ms, chips, bananas, soda, electrolyte drink, water, watermelon, peanuts, potatoes and salt, PB&J sandwiches, ham and cheese sandwiches, etc. The spread really is incredible. I do eat some solids but not much. Everyone is different. You'll hear ultrarunners say ultrarunning is all about an "experiment of one." What works for me may not work for another runner.
FS: Which is harder, the physical or emotional challenges that come up while running for that long?
DS: It's mostly physical and mental, not emotional. I think the emotional part comes a week after the run when the adrenaline wears off. I think that physical and mental challenges are tied in difficulty because when you physically break down your mental state must stay strong to keep you going.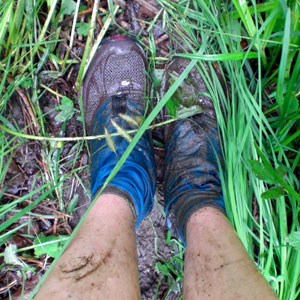 FS: What do you wear? Are there pieces of gear you can't live without?
DS: I pretty much always wear the same thing. I like Moving Comfort sports bras and shorts. I wear a Salomon short-sleeved top and a North Face long-sleeved or long pants if it's cold. Smartwool socks rule! I always wear a lightweight baseball cap. I wear Brooks Cascadia shoes, and I sewed a pair of mini gators to keep the dirt out of my shoes. I also have a hanky/sweat rag that I carry in my hand. It works great for sweat and to keep deer flies off of me in the Summer.
FS: What about going to the bathroom? (I know people are curious!)
DS: I am lucky in that I have never had to do more than pee on a run. A couple of years ago I learned how to pee while standing (saves you the pain of bending down). I haven't looked back to squatting since! The further you run the less you'll have to pee. Usually no matter how hard you try to stay hydrated you will become dehydrated during an ultra.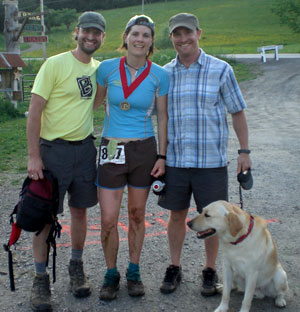 FS: How does it feel to complete an ultramarathon?
DS: Awesome! I usually feel mixed emotions. I am relieved to be finished and at the same time wish that I could still be out there. I am usually pretty hungry and ready to sit down. I'm always amazed at my body and what it can and will do for me. Running has given me confidence and has taught me to be thankful for my body. Running has taught me to love myself. I now know that we are capable of way more than we think.
FS: What tips would you give beginners who wanted to tackle their first ultramarathon?
DS: Find a training program online. I trained for my first marathon using Hal Higdon's training program. Build your base first. It may take a year to get a good base if you aren't a long-distance runner. Once you build your base you can work on increasing distance. After the distance is there you can work on speed. Don't try to up distance and speed at the same time. It's a recipe for injury. Listen to your body; it's the best indicator of what to do. Run in the mountains often! This will help your endurance and mental strength; plus, it's fun!
Truly amazing. I've definitely experienced that runner's high after completing a 10K, so I can only imagine the feelings of pride, awe, and joy that come up after completing 30 miles or more. Tell me, does hearing all this inspire you to try an ultra?