Investing in a Fancy Gym
Why You Should Consider Investing in Your Dream Gym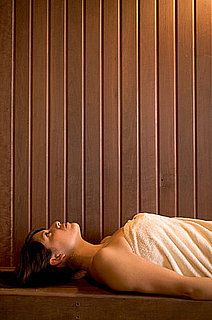 Mama's got a brand-new place to store her gym bag. After three years of loyalty to an acceptable but decidedly unglamorous chain gym, I've upgraded to a fancier club. I'm a saver by nature, but I made a mental list of my old gym's shortcomings (steady towel outages, understocked and overcrowded locker rooms, and mostly stale classes) and took a tour of a club I've had my eye on for a while. After two minutes inside the spa-like foyer and a closer look at the class schedule, I decided it was time to trade up. I utilize my gym enough that it's a worthy investment for me. Thinking about making a change yourself? Here are some things to consider and reasons why you might want to take the plunge too.
Better equipment means a better workout — The machines at my old gym were just fine, but the equipment at my new gym is remarkably high-tech in comparison, and because the club caps membership, there's never a wait. Bottom line: I'm already getting a more efficient workout and saving the five to 10 minutes I used to have to wait for a cardio machine.
The change of scene will inspire you — Sure, I miss my old gym pals a bit, but it's exciting to see new faces, work out in a different space, and develop a few new gym crushes while sweating it out.
Class variety will keep you on the move — I'd stopped going to dance classes at my old gym because I was getting déjà vu from the repetitive routines, but I have already dipped into three new classes that offer fresh techniques and have a long to-take list.
Amenities do matter — A complimentary coffee bar in the lobby, an ice machine in the bathroom, and a sauna certainly aren't gym necessities (and will never be), but they are luxurious perks to the daily gym experience.
The cost difference might not be as significant as you think — When I was window-shopping for a new sweating ground I expected a prohibitive cost contrast, but a tour and chat with the member director revealed my dream gym had lowered its prices (I can thank the economic slowdown), dropped its initiation fees (yay, holiday specials), and offers an affordable young-professionals discount. Plus, the free coffee could actually save me $30 a week, which is half the monthly dues difference from my old to new gym.
Best of all, the change has left me motivated and excited to explore the offerings, which is worth every penny. Have you traded up your workout space for the better? Share why you made the move and what you discovered in comments.