Ironman Tyler Stewart Shares Tips on Staying Motivated in Summer
Summer Training Tips From Ironman Tyler Stewart
Training in the Summer seems like it should be easy. The season is synonymous with free time, and with longer days, fitting in a workout shouldn't be so hard. Yet I find it more difficult than during other seasons, and luckily Ironman Tyler Stewart understands my woes.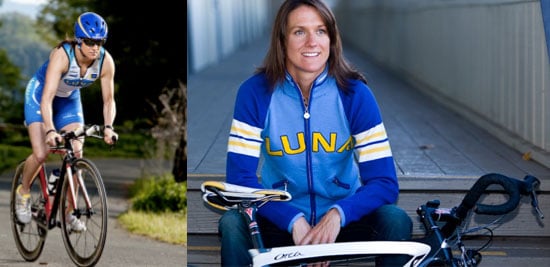 In a web event sponsored by Lunabar, Tyler summed up my problems: "Summer is a hard time to train. We all vacation a lot during Summer. It's hard to keep up with a routine when traveling. And when the weather is so nice you'd rather grab a beer with friends than train." Amen, sister! But as a professional triathlete, she's figured out some ways to take the pressure off and get motivated during summertime. Here are a few tips from Tyler:
Keep it short: Tyler recommends keeping your workouts short so you don't overwhelm yourself. As an Ironman triathlete, her long workouts are upwards of four hours — definitely a level above most of us — but short and sweet will get the work done.
Have a focus: Sign up for a Fall event to keep you motivated. Tyler is competing in the Hawaii Ironman this October, and having that race on her calendar helps keep her eyes on the prize.
There are three more great tips, so keep on reading.
Keep it fun: Summer workouts don't have to be in the gym. "As long as you're out there doing something, even if it is water skiing or going for a hike with your dogs, it all counts."
Do it for a cause: Training for a charity event will help keep you motivated. "When you do a charity event like Team in Training or joining a Luna Chix team, which helps raise money for the Breast Cancer Fund, it gives you a bigger purpose. So it's not so much about your but for a great cause and it inspires you to keep going."
Try something new: When you try a new sport or new event, you will be more inspired and look forward to your training. So don't just run another 5k, sign up for a charity bike ride or an endurance relay.
I am once again inspired to lace up my sneakers. How about you?