J Lo's Butt Workout
Jennifer Lopez's Bodacious Booty Workout
We are excited to share one of our fave stories from Shape here on FitSugar.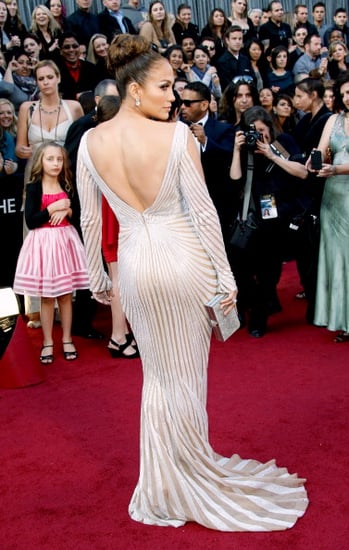 Actress, singer, designer, dancer, and mom Jennifer Lopez may have a sizzling career, but she seems to be better known for that infamous, beautifully bodacious booty!
Celeb Pics: The Best Butts in Hollywood
With glutes that defy gravity, J Lo has made curves a good thing in Hollywood. How exactly does the dynamic diva hone her hot bod, other than just being lucky with genetics? We got the secrets to her sexy figure directly from the source — the powerhouse personal trainer who worked with Lopez for more than a decade, Gunnar Peterson.
Video: Get Fit With Kim Kardashian's Trainer, Gunnar Peterson
"If you want to enhance the shape of your butt, as well as tone and tighten, the most important exercises are squats and lunges," Peterson says. "Be sure to use weights, weights, weights, and weights . . . and then some weights!"
Learn more about achieving J Lo's booty after the break!
Workout: Molly Sim's Lower-Body Workout
Peterson recommends moves like twisting lunges and a variety of squats from different angles to target the butt muscles, obliques, and lower body.
Fitness expert, author, trainer, and nutritionist Kathy Kaehler, who has also worked with Lopez, agrees. "The more muscles you can target at different angles, the better!"
So for example, channel your inner J Lo and bring out that backside by using dumbbells with a basic sit-down squat, then take it to another level by adding kettlebells with a split squat.
In addition to strength training, make sure you remember to add in that cardio. "Cardio is a must, anywhere from 20 minutes a day to an hour," Kaehler says. "Just change it up and try different things — like the elliptical, the bike, and the treadmill to more explosive moves like sprinting, the stairs, and plyometric exercises that will kick up the heart rate and demand that power."
What about that pesky cellulite that plagues many of us? "Watch the dressings and sauces. Avoid sodium at all costs," Peterson says. "Not even 'low-sodium' soy sauce on your sashimi."
The talented trainer also recommends getting a deep-tissue massage whenever possible, to help your rear, gams, and thighs look their best.
As for diet, Kaehler advises to stay away from diet food in a box. "Follow a well-balanced diet with real food and practice good portion control," she says. "Have a healthy protein, fat, and complex carb with every meal."
"Eat clean food as close to its natural state as possible," Peterson says. "Leafy greens, fruits, some complex carbs, and adequate protein — beef is fine if you want it, but I'd keep it only at once a week. And plenty of water! Start early with that and stay late!"
Catch Jennifer Lopez starring in her new hit docu-journey series showcasing Latin music and dance, QViva! The Chosen, Saturdays on Fox at 8 p.m. EST.
To get the latest health, fitness, beauty, and fashion news, follow @Shape_Magazine on Twitter or become a fan on Facebook.