Jamba Juice Make at Home Smoothies From the Grocery Store
New "Make at Home" Jamba Juice Smoothies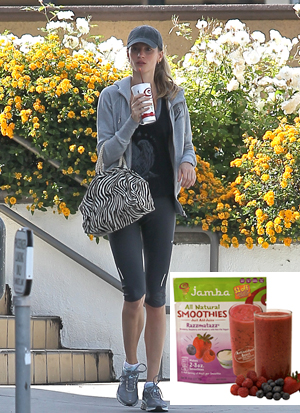 After working out it's really important to eat because it fuels lost energy and repairs damage to torn muscle. After my workouts I usually snack on an apple, some yogurt, or a fruit smoothie from Naked Juice. Supermodel Gisele Bundchen knows the importance of a post-workout meal too. Just last week she was spotted sipping on a Jamba Juice smoothie after leaving the gym. While a lot of the offerings at Jamba Juice can be calorie bombs, the chain does offer many low-calorie smoothies that can also be made with the addition of soy protein or nonfat yogurt. And in a new twist, it just started offering low-calorie "make your own smoothie" mixes at grocery stores.
Each package makes two eight-ounce smoothies, totaling 120 calories each — all you have to do is add apple juice. Besides being low in calories, they're made with real fruit, nonfat yogurt, and an antioxidant booster, and contain no corn syrup. So far only the chain's three most popular flavors are being offered: Razzmatazz, Mango-a-Go-Go, and Strawberries Wild. I'm bummed because I haven't seen any at my grocery store yet, but when I do, I am definitely going to try it.
In the meantime I'm going to make smoothies from scratch, like this green smoothie, almond berry banana smoothie, or chocolate-espresso smoothie. Are you a smoothie-holic like I am? What's your fave?