Jane Fonda Turns 74
How 74-Year-Old Jane Fonda Inspires
Happy birthday, Jane Fonda! Everyone's favorite '80s aerobic girl turns 74 today. There's no disputing it — she looks amazing and not just for her age.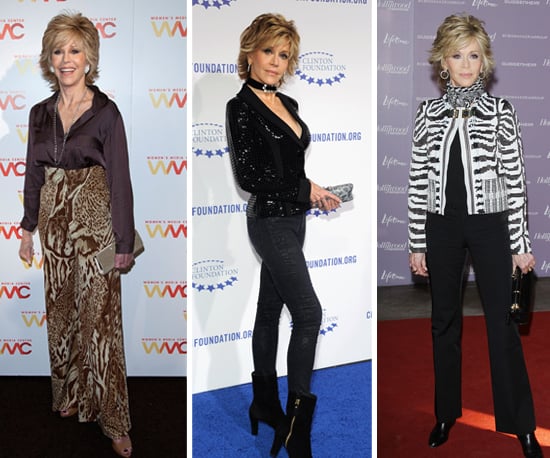 Of course, she works hard to keep up her healthy lifestyle (while sharing it with us on her blog). In need of some inspiration? Learn from the best with these tips from Jane herself.
Holiday help: Last year Jane told us her simple philosophy for staying healthy during the holidays. "I just try not to drink too much or eat too much and I try to stick with an exercise regimen," she said. "The thing about the holiday is that the food's so good and you tend to eat too much, so either you [should] eat less or you work out more."
Read on for more inspiration.
Tried and true: She may have been part of the aerobics craze more than 20 years ago (and recently gotten back in to the fitness world with a new brand and two workout DVDs), but that doesn't mean she loves to exercise. Jane knows, however, that dislike is no excuse. "I don't like to work out. So why do I do it? Because it changes my life and it makes me feel good afterwards," Jane says.
Life lessons: With her second autobiography out earlier this year, Jane's full of advice for younger women. She credits her age and experience with helping her be happier and more content with herself and recently shared one of her secrets. "Instead of becoming the subject of your own life, we become the object of someone else's life when you're younger," Jane says. "I did . . . until finally I thought, 'I want to be the subject on my own life again.'" A healthy and happy 74 years old, Jane's seems to have done just that!