Jason Alexander New Spokesman For Jenny Craig
Jenny Craig Update: Val Is on the Run and George Is Moving In
As the previous spokeswoman for Jenny Craig, Valerie Bertinelli lost an astounding 50 pounds for her bikini cover shot on People magazine. The actress has managed to keep the weight off, created her own fitness DVD, wrote a new book called Finding It, and completed the Napa-to-Sonoma Wine Country Half-Marathon in just over two hours. What's next for this amazing almost-50-year-old? Val is training to run the 2010 Boston Marathon on April 19 to support cancer research at the Dana-Farber Cancer Institute in Boston. Valerie says, "Losing 40 pounds was a huge accomplishment and as I continue to increase my fitness level, I am looking for more challenges."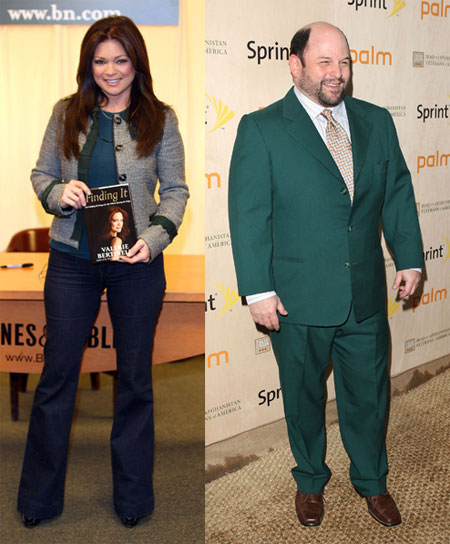 That's quite the goal, isn't it? Looks like she's learned all she needs from Jenny Craig, and it's time for someone new to take her place. That someone is Jason Alexander — aka George from Seinfeld.
To learn how much weight he plans on losing as the new spokesman keep reading.
Yep, Jason admits that he's put on some pounds and blames it on the sympathy weight he gained with both his wife's pregnancies and the yummy food on the set of the show. Inspired by the success of his pal Val, Jason's goal is to drop 30 to 40 pounds, as well as to encourage other people to lose weight. The comedian says, "If somebody goes, 'Well, if George can do it, I can do it!' — that's great. Whatever it takes to get you heading in the right direction. If I'm it, great!"
Valerie stripped down to a bikini to show off her post-Jenny Craig bod, but Jason assures us, "I will not be wearing a bikini for you." Well that's good to know. Do you think Jason will be a good role model for weight loss, or will you always see him as the tubby guy constantly stuffing his face on Seinfeld?