Jennifer Aniston Rumored to Be on a Baby Food Diet Again
Jennifer Aniston Reportedly on Baby Food Diet (Again)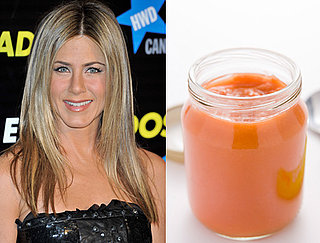 In another case of weird celebrity diets, recent rumors have surfaced that Jennifer Aniston went on a baby food diet to prepare for her role in Just Go With It. Tracy Anderson is credited with advising Jen to go on this diet, which consists of 14 servings of pureed food each day, followed by one adult meal.
While there hasn't been a lot in the news about Jen and Tracy working together in the past, Jen's BFF Courteney Cox is an outspoken admirer of the Tracy Anderson Method, and Tracy has Jen listed as a celebrity client in her bio. This isn't the first time Jen's been linked to liking infant food. Three years ago Marie Claire reported that stars like Jen, Reese Witherspoon, and Marcia Cross were huge proponents of eating baby food and that it was "fashion guru" Hedi Slimane — not Tracy Anderson — who is credited for this chewless infant food craze.
In the end, this diet is just an overly smooth way to regulate calories and fat intake, so we say skip it. There are more interesting ways to do that — plus we like chewing our food!