Jennifer Hudson Covers Self Magazine, Talks Her Weight Loss
Jennifer Hudson's Road to Weight Loss Began on the Red Carpet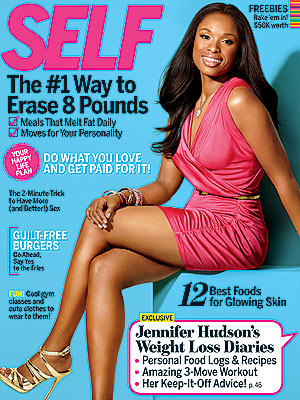 A gorgeous and talented actress and singer, Jennifer Hudson didn't need to lose weight, but she did it to set a good example for her son. Well, that's not the only reason. Growing up, a size 16 was considered normal in her Chicago neighborhood. When she hit the red carpet in 2007, she tells Self magazine, an interviewer asked, "How does it feel to be plus-sized in Hollywood?" She looked around and wondered who the woman was talking to and she realized, "Oh, me? I'm plus-sized?" That was her ah-ha moment, and when she was pregnant with her now 2-year-old son, David, she realized it was time to do something about her weight problem. Portion control and exercise helped Hudson lose 80 pounds, dropping down to a size six. She says, "I'm prouder of my weight loss than my Oscar!"
I too had an ah-ha moment. After gaining weight in college, while in line at the grocery store someone asked me, "When are you due?" I was mortified. I thought I was chunky, but I didn't think other people did. I secretly thanked her because it gave me the big kick in the pants I needed to start taking better care of myself (to return two pints of Ben & Jerry's back to the freezer aisle), to dust off my running sneaks, and to get rid of the tire around my waist.
Whether you've already reached your weight loss goals or are still on the long journey, please share what moment you realized it was time to drop pounds. It not only feels good to get it off your chest but it might also inspire fellow readers to get serious about dropping pounds.