Jennifer Kessy and April Ross Work With 4POINT4 Haiti Charity
What's Next For Beach Volleyball Olympians Ross and Kessy
Even though the 2012 Olympics are over, silver medal winners April Ross, 30, and Jen Kessy, 35, aren't done with beach volleyball. Teaming up with 4POINT4, a philanthropic brand of sports apparel and gear that donates sports equipment to developing nations, the dynamic duo is heading to Haiti and Thailand to teach underprivileged kids their beloved game. Ross says,
"Having the chance to play sports growing up teaches you all kinds of life lessons. It gives young people confidence and instills in them motivation and drive to be the best one can be. It's absolutely invaluable."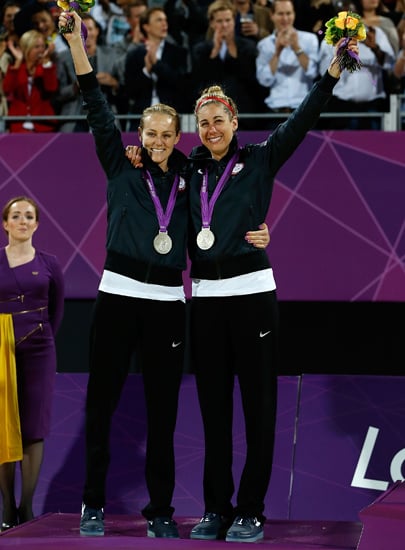 As part of their endorsement deal, 4POINT4 donated equipment, facilities, and instructors to set up beach volleyball tournaments in Cité Soleil, Haiti, while the Olympics were going on. Now that the games are over, the dynamic duo will take some time off from training to teach less-fortunate children how to play. Ross says,
"The fact that we can help children in Haiti and Thailand through the support we are given by 4POINT4 is such a blessing. I really feel like it can be life-changing for those kids. We can't wait to see the little girls we are working with in Phuket [Thailand]. We know they were supporting us in the Olympics and we know there is so much more we can do for them."
And Kessy adds,
"To be an Olympic athlete, you need to be a little selfish and think about your own needs a lot. Now that the Olympics are over, I can't wait to help others and put my needs on the back burner."