Jennifer Lopez and Anna Paquin Diet and Exercise Routines
How Birthday Girls Anna Paquin and Jennifer Lopez Stay in Shape
Happy birthday, Anna Paquin and Jennifer Lopez! While the 30-year-old True Blood actress and 43-year-old singer, actress, and former American Idol judge seem like they couldn't be more different, they share more than a few healthful living philosophies. Here's how mom-of-twins Jennifer and mom-to-be Anna eat and exercise to stay healthy and fit.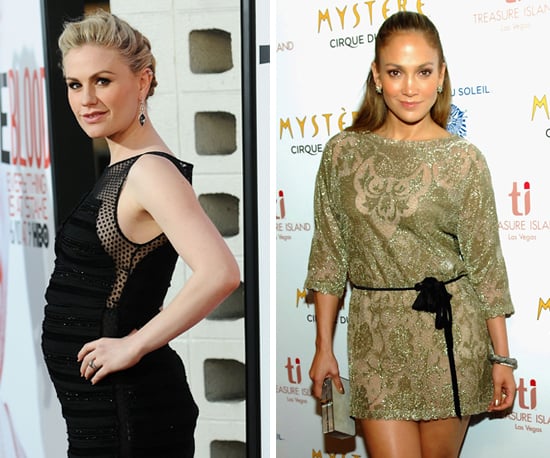 Mix it up: Anna admits she is Pilates-obsessed, but she doesn't shy away from experimenting with exercise. She's tried everything from barre workouts to boxing, as well as aerial silks classes, and also runs and swims. "I feel good when I feel like I'm really strong," Anna told Health last year.
Jennifer also knows that varying your workout routine is the best way to stay motivated and keep seeing results. Jennifer has enlisted the help of celebrity trainers Tracy Anderson, whose workouts change every 10 days to keep your body guessing, and Gunnar Peterson, who uses a combination of lunges, squats, and explosive plyometric moves to keep Jennifer's famous backside toned. Jennifer is also about the challenge; in 1998, she competed in a sprint triathlon just a few months after giving birth to her twins. She also is a fan of TRX, which offers countless ways to strengthen and stretch using straps and your own body weight.
Hard work pays off: Both Anna and Jennifer aren't shy about showing skin, whether on camera or on stage, but they want you to know that looking good takes discipline and hard work. "I don't want to be one of those actresses who says, 'I eat cheeseburgers all the time.' I don't! I eat a lot of fruit and vegetables," Anna said in 2010. And Jennifer admits that prepping for a sexy music video shoot was her motivation to amp up her workouts. "You can hide a lot with good clothes, but when you're doing a video, you really can't, because the clothes get smaller," she's said.
Keep reading for more on how Anna Paquin and Jennifer Lopez stay fit.
A healthy diet: Anna may eat a lot of fruits and veggies, but she also leaves room to indulge. "I try to eat well, but sometimes you can be a little too obsessive. It's good to remember it's actually not the be-all and end-all," she's said. And while Jennifer may have been rumored to be on a trendy diet or two in the past, even she admits that what works for her is simple "portion control."
Body image: They may clock hours in the gym, but both Anna and Jennifer know that wanting to look your best is different than striving for an unattainably perfect body. While Jennifer admits to feeling "fat" after giving birth, she took a slow and steady approach to losing those post-baby pounds, losing 50 pounds in just under a year — a huge feat by most accounts, but slower than Hollywood's normally frantic losing-the-baby-weight race. "I remember my flabby belly hanging out right after I gave birth. . . . I just didn't care," Jennifer declared about her pregnancy weight gain.
Anna's sensible body-image outlook will no doubt help her if she has to navigate any similarly unrealistic expectations after giving birth later this year. "For me, [happiness] has more to do with being fulfilled in other areas of life, not how many hours I'm at the gym," Anna told Self in 2010. "If you're not happy in other areas of your life, you're not going to be happy with the way you look."
Happy birthday to two fit ladies!