Jennifer Lopez Tells Us Weekly That She Didn't Care About Flabby Belly
J Lo Laughed at Her Post-Pregnancy "Flabby Belly"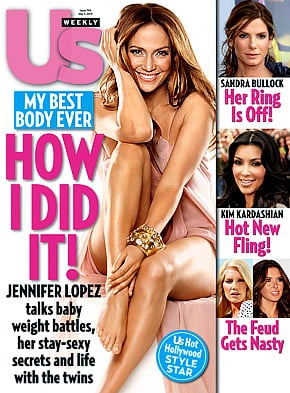 Talk about kudos: Jennifer Lopez was just named Us Weekly's Style Icon of the Decade. But it wasn't too long ago that the superstar was poking fun of her post-pregnancy bod: "I remember my flabby belly hanging out right after I gave birth," Lopez, 40, tells Us Weekly. "I kind of laughed and said to Marc, 'Look, baby! Isn't this crazy?' I just didn't care."
Now that she's whipped her body back into shape, Jennifer feels a little different looking back at that time in her life: "I look back at pictures from that time, and I'm like 'Oh, god, I was fat. I was still heavy eight months out!'" Jennifer confirms that she is back to the size that she was before giving birth and couldn't feel better. We think she looked absolutely fab at last night's premiere of her new film The Back-up Plan. However, it wasn't Hollywood, her music career, or a new film that motivated her to get in shape, it was her twins, Emme and Max.
"You get to the point where you're like, Where am I? What happened to me? I got to get myself together for my kids, you know? They need to know what I really look like."
To lose the weight, Jennifer put herself on a regimented meal and exercise plan in order to drop a whopping 50 pounds. To read more about Jennifer's weight loss, pick up an issue of Us Weekly, which is out on newsstands now.