Jennifer Love Hewitt Works Out With the Ab Circle Pro
Jennifer Love Hewitt Loses Weight Via an Infomercial
Every now and then I get sucked into infomercials that advertise wacky products like the Snuggie, Ab Rocket, or Shake Weights. And though I've never ordered anything (yet!), I've often wondered if this stuff really works. Actress Jenifer Love Hewitt thinks so. Sounding a bit like an infomercial herself, the star told Us Magazine that she's been getting results from a $200 fitness machine she bought after seeing an infomercial: "I just got this machine called the Ab Circle Pro — I ordered it off TV, and I love it!" (If you don't know what the Ab Circle Pro is, it's billed as a treadmill for your abs and it's supposed to work your stomach, butt, hips, and thighs.)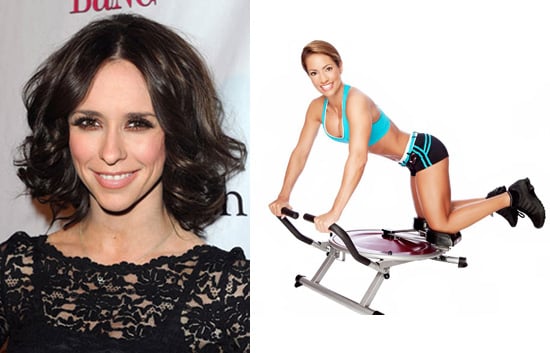 It's true that Jennifer is looking slim these days, but she's also doing a lot more than working out on the Ab Circle Pro. At least three to four times a week, Jennifer works on her upper and lower body.
To find out what exercises Jennifer does,
.
Us Magazine says:
For her upper body, she says she does "three sets of 20 push-ups, [dumbbell] flys, bench presses, shoulder presses and bicep curls" three to four times per week. She also does the same amount of lunges and squats before focusing on her core and doing 30-second body planks and a few sets of 20 crunches.
Jennifer also stays in shape by interval training. When doing the above strength-training moves with her trainer, she also adds 10 minutes on the treadmill or jumping rope into the routine. On days she can't make it to a one-on-one session, she does 30 minutes of cardio on her own.
Have you ever had success with a fitness product you ordered from TV?