Jessica Alba's Diet and Exercise Routine
Jessica Alba's Fit Philosophy
Happy birthday, Jessica Alba! The erstwhile action star and devoted mom of two turns 31 on Saturday, and to celebrate we are taking a look at how Jessica's stayed fit while enjoying life throughout the years.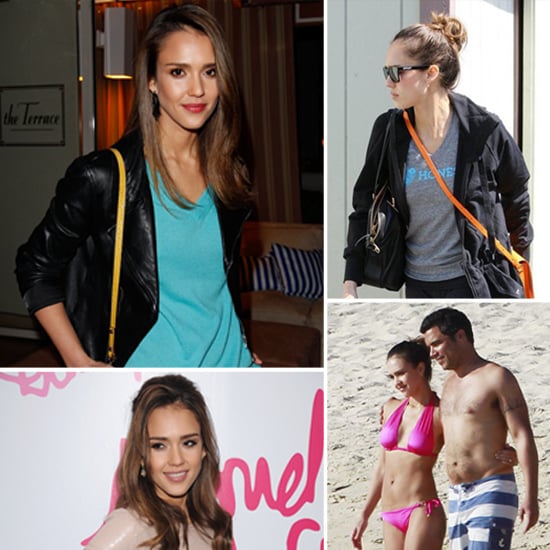 Bootcamp style: It's all about high intensity for Jessica. She enlists the help of Barry's Bootcamp, a favorite with starlets in LA, to get fast results. Each workout contains high-intensity cardio intervals and strength training for an all-in-one session that saves time.
Reluctant workout: Even though she works hard in the gym (which isn't always a good thing: to get ready for a photo shoot soon after having her first child, she exercised so hard she said she cried!), she's no fitness fanatic. "I'm not a big workout person," she told Self. "Every single day, I tell my girlfriends we're starting a regimen. And then it's, like, 'Want to get dinner? Want a glass of wine?'" Jessica does, however, know how to keep workouts fun; she alternates between the gym, her treadmill at home, swimming, and yoga to keep from becoming bored.
Diet-free zone: Jessica doesn't like to diet, so instead she eats clean all the time. "Diets are for the birds. I think you have to eat in a way that makes you feel your best. I include a lot of vegetables and lean protein and fruit and grains in my diet," she told Self.
The importance of sleep: Running a company, being a mom, and starring in films can jam-pack anyone's schedule, so Jessica gets her workouts out of the way early in the morning. Sometimes, however, she knows it's healthier to catch up on sleep than continue to tire out her body. "Slacked off this am on the work out but the sleep was the best I've had in three weeks. Tomorrow its ON . . . " she once tweeted. Listening to your body is the best way to tell if you are skipping a workout because of a lame excuse or because you actually need to rest.