Jessica Biel's Diet and Exercise Routine
How Bride-to-Be Jessica Biel Stays in Shape
Congrats are in order for your favorite fit celeb! While Jessica Biel and Justin Timberlake have been engaged since late last year, she's been keeping her engagement bling a secret — until now. Yesterday Jessica Biel debuted her engagement ring while running errands in LA. The diamond's blindingly big size prompted our very own PopSugar to joke: is wearing that huge bauble around town its own arm workout? Maybe not, but Jessica does work hard for those toned arms (not to mention the rest of her body). Here's how the newly 30-year-old and soon-to-be newlywed stays in shape.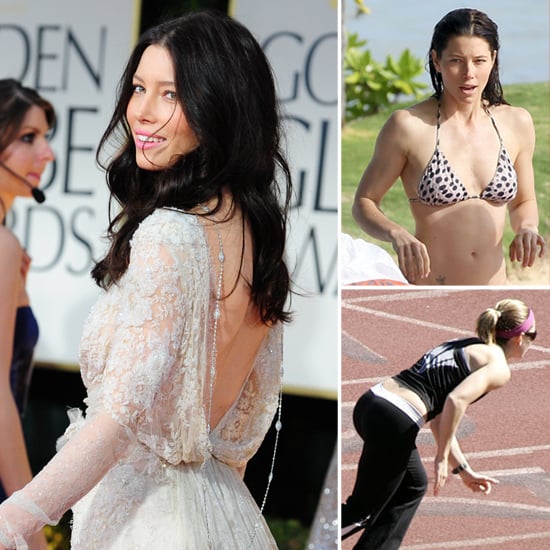 Seek adventure: A self-described "adrenaline junkie," Jessica doesn't just stick to the same workout routine. She takes advantage of the outdoors by biking and hiking regularly — including that famous 2009 trip to the top of Mt. Kilimanjaro. "When you get out into the wilderness and strip [away] all of the stuff in your everyday life, you really gain a great respect for your own life, simply as it is," Jessica says of her grueling mountain climb. "Needing things starts to feel like, Oh, I kind of have everything, don't I? It's pretty great."
Train like an athlete: Jessica's no shrinking violet; she's known for her strength, lean frame, and killer muscles, which she gets through a hardcore, athlete-caliber exercise routine: walking lunges to tone her backside, track sprints, weight training (she uses lighter weights with more reps), plyometrics, and more. Get the details of one of Jessica Biel's tried-and-true exercise routines here.
Read on for more details about Jessica Biel's diet and exercise routine.
Strengthen and stretch: Jessica doesn't just stick to intense workouts. She loves to do yoga twice a week to lengthen her muscles. "I like to do a couple of yoga classes during the week," she says. "Yoga for me is more of an elongating thing."
Indulge a little: Jessica Biel's diet is full of healthy fresh foods like complex carbs at the beginning of the day, fruits for snacking, and fish and veggies for dinner. But that doesn't mean her diet doesn't have any wiggle room. She's a fan of the scheduled cheat day, where she can indulge and eat whatever she wants without feeling guilty. "When I'm working and I eat healthily all week, then I give myself one day — usually Sunday — when I eat just what I want. You have to, otherwise your mind goes a little nutso," Jessica says.
Sources: Getty, FameFlynet