Jessica Biel Is the February 2010 Vogue Cover Girl
Jessica Biel Can't Get Enough of the Mountains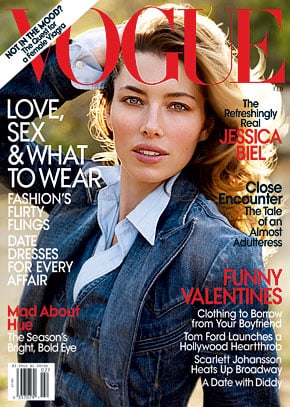 In the February issue of Vogue, cover girl Jessica Biel packs up her Subaru and heads to Whistler for a two-day interview on the slopes: "This is very much a me moment: in the snow, in the Subaru, listening to music. I feel really at peace in this environment." And though she mainly talks about her upcoming movies — A-Team and Valentine's Day — we do get a glimpse of why she's your fittest female celeb of 2009.
For her role in the A-Team, Jessica needs to be able to handle about 40 lbs. of heavy artillery while also being able to rack and reload. While training to do this, the actress gave herself quite the challenge: for every mistake she makes, she'll owe her trainer a push-up.
After Biel squeezed off several deafening rounds, Paul calculated the number of mistakes she made and then said, "Twenty-four!" She dropped to the floor and gave him two dozen push-ups. It was only then that I noticed that she is as thin as a teenage boy and all muscle.
To hear more from Jessica's interview, read more.
Jessica's love for the outdoors comes from her parents, who she describes as "hippies." Raised in Colorado, she says they are an "incredible couple" who spend time doing things like rafting through the Grand Canyon. (I'll bet my money that they were nothing but proud when she told them she was trekking up Mt. Kilimanjaro.) While growing up, she credits them with letting her indulge in pretty much anything. By the age of 6, Jessica was starring in musicals and training as a level-six gymnast.
I love that during one of the interviews, Jessica asks if the halibut on the menu is still in season. It's great to know that she's not only eating healthy by sticking to fish, but that she's responsible about it too. (I'm thinking Jessica would love one of the sustainable seafood guides from Seafood Watch.)
As for how she performed on the slopes that weekend? About 1,200 feet up on the mountain, Jessica's snowboarding is described by the author as both "goofy and confident." Sort of like I imagine her.