Jillian Michaels on the Cover of Ladies Home Journal
Jillian Michaels Covers Plenty of Topics With LHJ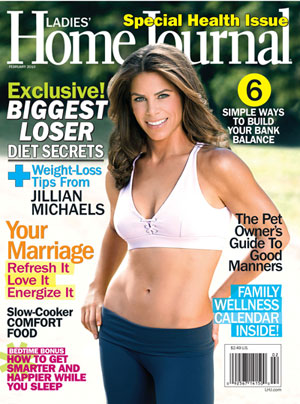 I predict that 2010 will be the year Jillian Michaels becomes a household name, if she isn't already. The latest season of The Biggest Loser begins on Jan. 5 (that's tomorrow in case you hope to catch the season premiere) and her new one woman lifestyle makeover reality show will premiere later this Spring. Master trainer Jillian opened up to Ladies' Home Journal about love, life, and the dangers of reality weight loss TV. Here are the highlights.
On the manipulative side of reality TV: "The Biggest Loser is like a funhouse mirror. I've loved the show and the platform it has given me, but still, it is the nature of reality TV to manipulate. You never see what's going on in its entirety. For every 10 minutes we're on the show, acting like insane people, there are a hundred hours of training you don't see. The stretching, the icing. Nobody wants to watch that."
Learn what Jillian thinks about contestant safety on The Biggest Loser when you
.
Admitting concern about the safety of her contestants: "You're the fifth person to say that to me this week. And you're not wrong. The contestants keep getting bigger and bigger . . . As the trainers we have no say over the challenges. We worry about them too."
On being open to healthy love: "Let's just say I believe in healthy love. If I fall in love with a woman, that's awesome. If I fall in love with a man, that's awesome. As long as you fall in love . . . it's like organic food. I only eat healthy food, and I only want healthy love!"
On being an overweight and angry teen: "I lived on junk food. I had no direction. Once I punched a hole in our wall. Another time I stole a car….[My father and I] sort of bonded over food. When he was alone with me and we had nothing to say to each other, it would be like, 'Let's eat a pizza!' "
Her thoughts on fitness: "For me it's never been about fitness. Getting in shape is just a means to an end. It's like if you said to a contractor, 'How much do you love your toolbox?' He'd be like, 'Um, well I'm passionate about building beautiful houses, and to do that I need these tools.' Well, I'm passionate about helping people rebuild their lives. When someone feels strong physically they feel strong in every aspect of their existence. If they have endurance and achieve in the gym, then I can redefine their entire self image. I can wipe away years of negativity."
On her tough-love method: "You can circumvent the negative thinking with fear. Just the way a mother can lift a car off a child—it's like, fear makes you live in the moment. Sometimes I need to intimidate a person, and then they do what I ask, and when they see they can be successful it is the most amazing experience for them. I can use the techniques they have used to program themselves for destruction and program them for success."
Read the rest of the interview on Jan. 15 when the February issue of Ladies' Home Journal hits newsstands.